Personalized customer service across every journey
The most agile software built for friction-free experiences
Boost agent productivity
Your agents are integral to your success. Keep your team connected, effective, and productive wherever they are.
Be there for your customers
Your customers want to feel taken care of. Provide them with proactive, personalized, and frictionless experiences across any channel.
Drive down cost-to-serve
These days, you need to do it all. Minimize costs and get the most out of your channels with intelligent automation and case management.
Key features of Pega Customer Service
A leader in customer service
Learn why Gartner has named Pega as a leader in their Magic Quadrant for CRM Customer Engagement Center for 12 consecutive years.
More analyst reports
How Pega helps you resolve
Telco
Data limit almost exceeded.  Roaming activated.
You are about to reach your monthly data limit...               
Customer
To avoid costly calls to your service center (and keeping customers happy), you need to stay one step ahead. That's why Pega's real-time monitoring and pattern detection lets you sense a potential billing issue, then send your customer a proactive notification.
It's not mind-reading. It's signals.
CTA Text
I'm a link
Next 
Why is my bill so high? Let me check...             
Customer billing view
If the billing issue is due to new fees and charges, the customer can log in and easily see what's changed, thanks to Pega's customer self-service view. 
Next 
Customer is 79% likely to call about their bill... 
Offer to waive late fee               
Use Pega's AI-powered propensity modeling to determine when to present the offer that gives your customer resolution he needs

—

without having to call your service center.
See call deflection in action
Next 
Why is my bill so high?
You have a data roaming charge and a late fee. Would you like me to waive the late fee?
Agent's view of changes 
If a customer does pick up the phone, your agents will be ready. Pega provides a detailed view of charges over time, and guides agents with scripts. That way they can focus on the interaction with the customer instead of making calculations.
Next 
Thanks so much for waiving my late fee!
Thanks for being a valued customer!        
When your customers' billing issues are resolved quickly, you see results. Think higher customer satisfaction, fewer calls, and lower average handle time (AHT).
Find out how Cisco cut AHT in half
Next 
Proactive customer service. Streamlined billing inquiries. Start delivering all of this and more with Pega Customer Service.
Learn about the Billing Inquiry Microjourney™
Learn more about intelligent guidance
Telco
Activate your account now. It should take about 10 minutes. 
I can do this on my phone? Great!               
Customer
Want to make a great first impression (and avoid calls to your service center)? Use Pega's self-service guided internet setup to make customers' experience easy and frictionless.
Mobile-first experience
Next 
Ok, how do I get started?
Visual instructions
Step-by step visual instructions help your customer get set up successfully. Troubleshooting tips allow her to easily navigate challenges along the way.
Next 
Customer
OK, I'll take a picture of my modem.
Great, we've got your serial number               
Telco
The customer can take photos of her equipment, and Pega's optical character recognition (OCR) and natural language processing (NLP) work in the background to identify serial numbers and IDs.
How this works
Next 
Customer
My internet is working!
Great! We're here if you need anything.               
Telco
It all adds up to seamless self-service, higher customer satisfaction, and fewer calls.
Find out how TalkTalk enables customer self-service
Next 
Proactive customer service. Flawless digital experiences. Start delivering all of this and more with Pega Customer Service.
Learn about the Guided Internet Setup Microjourney™
Learn more about Pega's NLP capabilities
Two ways to get started
Replace Your Desktop
Transform service from end-to-end
Drive end-to-end digital customer service transformation across your organization with best-in-class, agile technology that's built for a fast-moving world.
Improve Your Existing Desktop
Augment current capabilities with the power of Pega microjourneys
Already have an existing customer service desktop in place? Scale and reinforce your current customer service solution with intelligent automation, case management, and "a journey at a time" delivery model.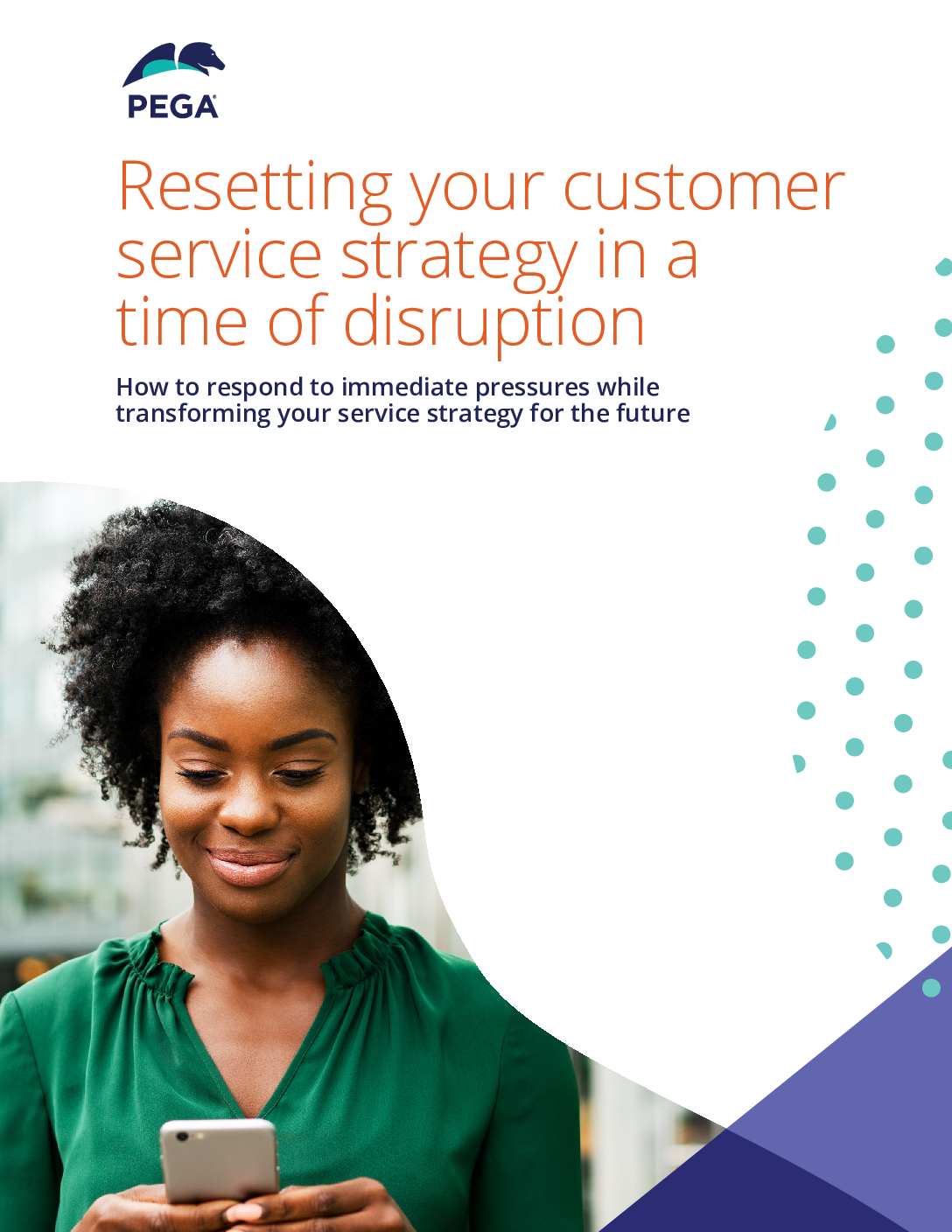 Resetting your customer service strategy in times of disruption
As organizations look to adjust their customer service strategy in response to COVID-19, there are four steps that can help you to deliver exceptional service. Learn how to provide the level of service your customers expect, without driving up costs.
Get the white paper
View all Customer Service resources
Technical information
Explore our knowledgebase of capabilities on Pega Community
Pega Customer Service can help your business
Learn how to deliver smart, streamlined service
OCR technology converts images into text, while Pega's NLP works to understand which text strings are serial numbers and IDs.
Pega enables businesses to detect patterns among various customer signals, in order to predict who is likely to call with a billing inquiry.
Customer can see what's changed this month on their dashboard.
Agent can see the reason of bill increasing on the detail page.
OCR technology converts images into text, while Pega's NLP works to understand which text strings are serial numbers and IDs.