Analyst Report
Forrester study demonstrates 321% ROI with Pega 7
Pegasystems commissioned Forrester Consulting to conduct a Total Economic Impact™ (TEI) study to examine the potential return on investment (ROI) enterprises may realize by deploying the Pega Platform.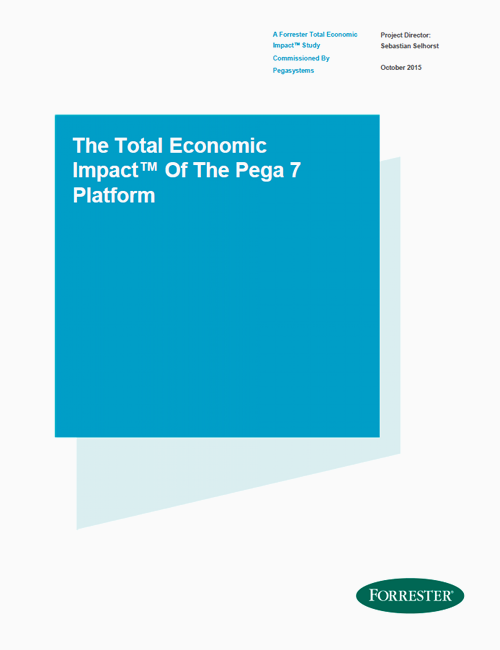 The Total Economic Impact™ Of The Pega 7 Platform
PDF | 30 pages | 32 mins read
Highlights from the study:
The ROI was 321% with a payback period of less than 12 month.
Development cost savings of 75%. With the adoption of the Pega 7 platform, all of the interviewed organizations transitioned to a model driven approach with agile methodologies.
Reduced time-to-market by 50%. The analysis commissioned that organization are able to launch new business applications up to 90 days earlier.
End-user productivity gains up to 75%. Interviewees reported that their end-users had typically achieved 20% to 50% of productivity gains.
Related resources
A productivity comparison of Pegasystems Pega 7 versus Java Enterprise edition custom build
Pegasystems is the leader in software for digital transformation. Find out more about our 35-year history of helping the world's leading organizations achieve breakthrough business results.
Learn more