Case management
Drive better business outcomes with a software-based approach that orchestrates work from end-to-end
What is case management?
Case management is a software-based approach to helping people accomplish daily work and automating work from end-to-end. As the central concept of our low-code automation platform, the case is the epicenter and used to manage tasks, outcomes, and related sub-cases – all with the goal of completing a journey and delivering business outcomes.
How does it work for businesses?
Case management is a key component of building business applications. On an enterprise level, it manages complex human and machine work from start to finish – to deliver and drive outcomes that you and your customers demand. Plus, it's capable of dynamically handling any exceptions to those intended outcomes along the way.
What is a case?
A case is like an electronic folder that includes all the tasks, documents, and data needed to complete a desired outcome. A case can:
Retrieve the information you need
Drive the processes you want
Manage escalations and urgency
Detect changes
Make decisions to achieve an outcome
Track work at every step
How to build your transformation team
Get the most value out of case management by getting to know the roles and responsibilities at its core.
Why use case management?
It all comes down to getting work done. Whether that's orchestrating bots, connecting front and back offices, or accelerating your ability to scale through reuse, case management helps streamline operations to help employees be more productive and deliver experiences that customers demand.
When done right, case management empowers businesses to confidently manage complex work collaboratively across channels, devices, regions, and organizations, and positively impact ROI in the short and long term.
Benefits of case management
Supports human and machine work. Integrated AI and natural language processing detect customer sentiment and intent, and extract data from inbound inquiries – all to fulfill requests easily and efficiently.


Manages data and integrations. Take advantage of capabilities like robotic process automation by adding a bot to any case – so you can easily pull data or update existing systems.


Enables collaboration. Agile tools allow stakeholders to provide application feedback and requirements from directly within the case, eliminating business–IT communication gaps.


Supports low-code app development. Visual tools simplify business, professional, and IT development to get enterprise apps live, fast.


Automates documentation. Maintains an audit trail of all activities within each case – in order to minimize compliance risk as well as streamline and automate required reporting.
Product details
How does case management work?
Essentially, a case represents work that an organization performs to achieve an outcome, such as recruiting a new employee. Lots of tasks and processes – whether planned or unplanned – may be performed to complete the work and deliver the outcome defined by the case.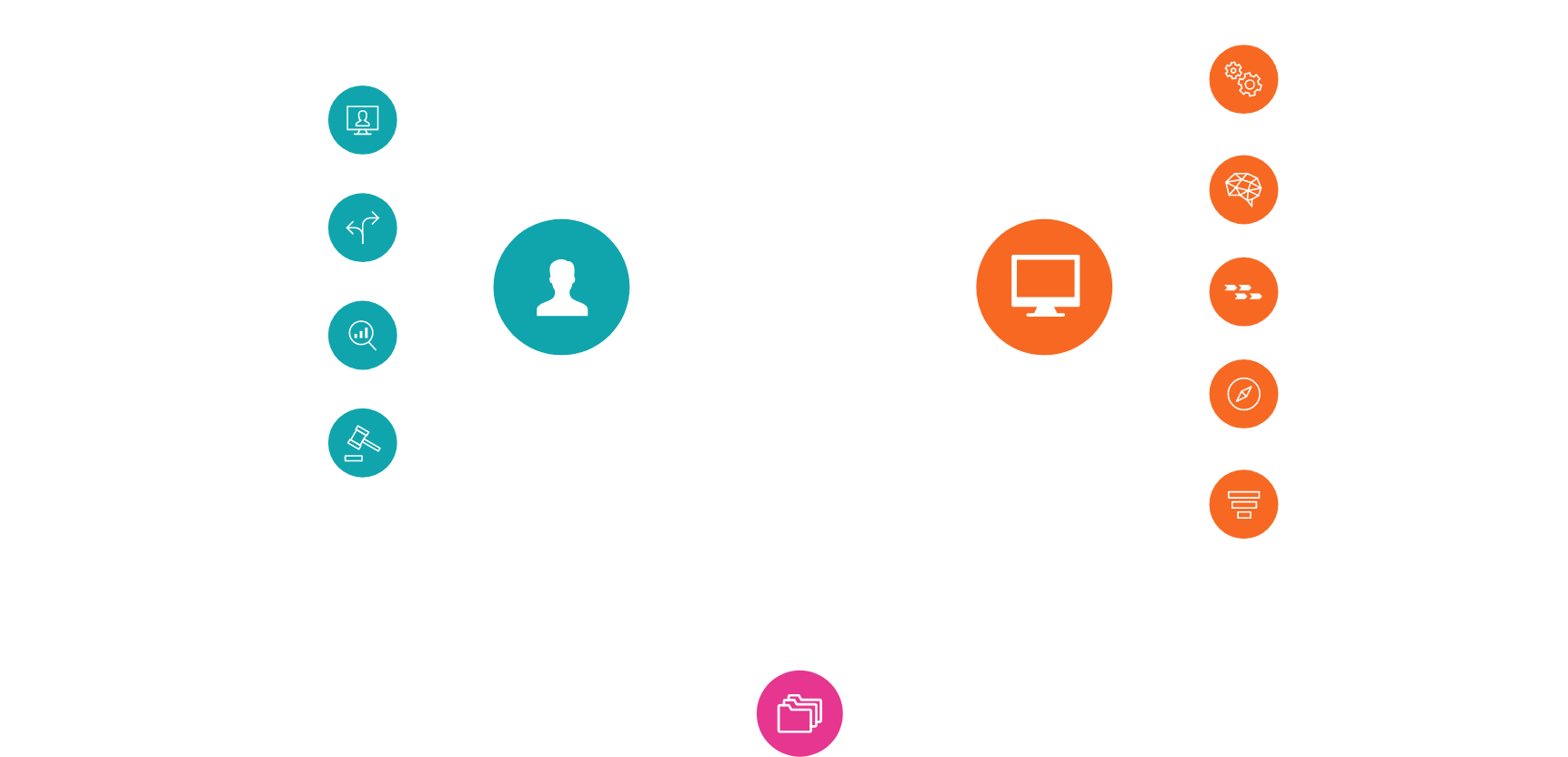 Build business solutions intelligently
Understand how case management can help you boost productivity and empower your teams
How are cases different from processes?
Processes
Employees rely on a well-defined and predictable set of information.
The same or similar journey is followed to completion every time.
Employees automate from end to end.
Efficiency gains are maximized.
Cases
Work is typically ad hoc and unpredictable.
Employees managing work rely on diverse sets of information.
The work itself is unstructured.
The work can't be fully automated.
Cases require human decisioning to drive forward the outcome.
Orchestrate work intelligently with case management
Streamline enterprise workflows at scale, and fundamentally change the way work gets done
Frequently Asked Questions about case management
Case management focuses on better business outcomes. The objective is to manage all the work needed to handle a given case – regardless of the type. When done right, case management manages work across channels, devices, regions, and organizations, and improves efficiencies.
Case management provides a holistic, responsive approach to automating work. It forces you to think about your mission-critical processes as happening in stages and connects disparate systems to manage work. Case management does more than just track tasks – it drives work toward its goal.
The software that supports case management manages work across applications and people to create an ecosystem of data on each case. The defining trait of this software is its ability to support and manage all the work being done on the case.
Case management helps streamline operations to help employees be more productive and deliver experiences customers demand. Business activities can include: insurance claims, patient records, loan applications, identity theft investigations, customer requests, and adding new customers.
In case management, processes and cases exist independently of one another. Cases can be managed as a holistic body of work. With traditional business process management, each process would be executed as distinct and disconnected. With case management, processes are tightly associated with the case – and the same is true of its child cases and their processes.