Smart. Personalized. Simple. Real customer service CRM.
"We're able to predict that you're going to call…to provide you a resolution path before you need to actually contact us."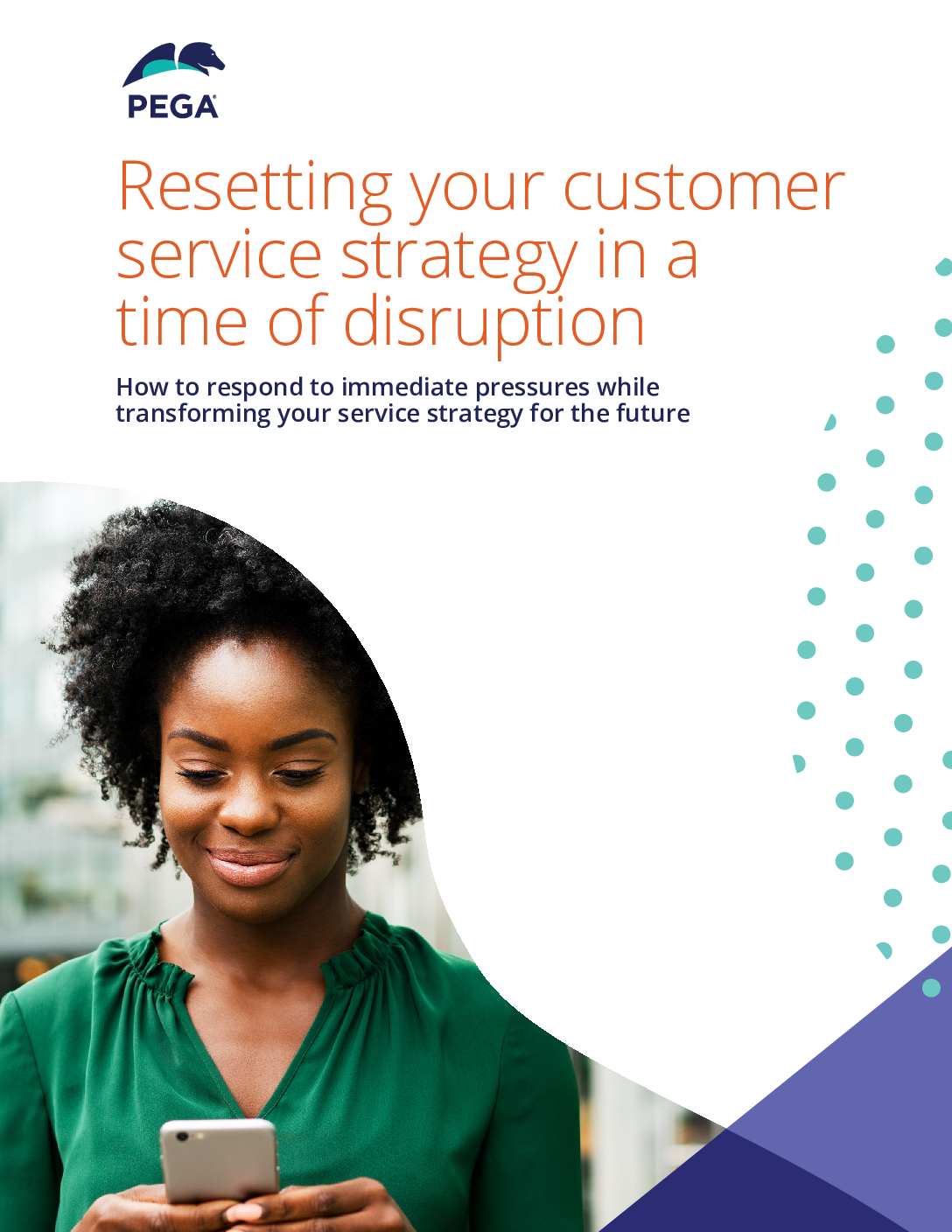 Resetting your customer service strategy in times of disruption
As organizations look to adjust their customer service strategy in response to COVID-19, there are four steps that can help you to deliver exceptional service. Learn how to provide the level of service your customers expect, without driving up costs.Get the white paper
Get to know Pega Customer Service
Unified digital messaging
Customers want to communicate with you via all kinds of digital channels. Meet them where they are and engage seamlessly in a powerful, unified agent desktop. With the acquisition of leading digital messaging platform provider In the Chat, Pega empowers you to be more flexible and future-proof than ever.
Real-time omni-channel AI
Engage customers across channels and devices without losing the context of your conversation. Pega Customer Service™ includes real-time omni-channel AI that extends across phone, web, mobile, chat, email, and much more, creating truly seamless experiences.
AI-guided interactions
What if every customer service agent could be as good as your top performers? Pega's AI-augmented agent automates tasks and learns from your best agents' behavior, then guides chat agents with next-best-action recommendations – so you engage intelligently every time.
Dynamic case management
Pega helps you keep your promise to your customers, connecting all the people, contact center systems, and other enterprise processes required to resolve each customer inquiry. It tracks related information, automates and assigns outstanding tasks, and connects front- and back-office activity for end-to-end resolution.
Robotic desktop automation:
A personal robot for every agent
Rapidly optimize the way your employees work. Simplify, automate, and integrate technologies and processes on the desktop that enable them to get more work done faster.
Contextual digital self-service
Make your website and mobile experiences more effective – and get fewer calls from frustrated customers – by infusing context into your digital experience. Pega Self-Service Advisor uses real-time insights to give browsers the information they need, fast; it can even generate personalized offers for optimal engagement.
Applications designed for your industry
"The thing I like about Pega is the integrated platform and all of the capabilities we have there. We've not found a limit to how far Pega can take us."
Customer Case Studies
See how customers are using Pega Customer Service to transform their enterprises.
CASE STUDY
American Express Exceeds Customer Expectations
Learn how focusing on the customer has really paid off for American Express.
Read Case Study
Customer Success
Revitalizing Customer Service Processes
With automation, Unum was able to eliminate many manual handoffs, freeing its reps to focus on customers.