This is an updated version of Michael Fine's original blog.
I frequently get asked by my esteemed colleagues around the world, "What exactly is case management?" and "Why should I care about it?" These questions often come from people with great experience in other areas of enterprise software, such as customer relationship management (CRM). Many technologies, including cloud-based CRM platforms like Salesforce.com, often include a "case management" capability so why is there so much confusion?
It's simple. Not all case management is created equal. When evaluating other technologies, the "case" is often little more than a data object designed for ticketing and tracking. These types of ticketing applications are helpful to a point, but case management is so much more than just a task tracker. On an enterprise level, it's the key component that orchestrates complex human and machine work from end-to-end, start to finish, to deliver and drive the outcomes that you and your customers demand, plus is capable of dynamically handling any exceptions to those intended outcomes along the way.
Where it all begins - the case
A case essentially represents work that an organization performs to achieve an outcome. For example, processing an auto-insurance claim or opening a new bank account is a critical piece of work that needs to be done to deliver a resolution to a customer. Creating a new enterprise application can also be considered a case, with the outcome being the new application.
Lots of tasks and processes, planned and unplanned, may be performed to complete the work and deliver the outcome defined by the case. A task is an assignment that must be accomplished. A process is a way in which work may be completed. Most cases are made up of multiple tasks and processes that drive the case toward its outcome. These are represented within the stages and steps in the image below.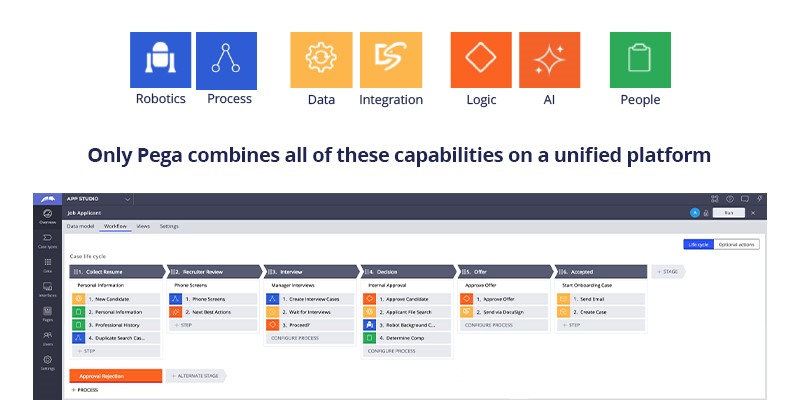 Example of a case's stages and steps
In the screen shot above, stages are represented by chevrons. The steps for each stage are listed under each chevron. Each stage and step within this case was designed by business users and developers to capture the actions that need to happen – when to automatically retrieve data, what decisions to make, etc. – and is shown in a simple to understand graphical metaphor.
Case management forces you to think about your mission-critical processes as happening in stages. Whether recruiting a new employee, applying for a loan, submitting an insurance claim, enrolling in a health care plan, or booking a flight on an airplane, all of these activities have defined cases with stages and steps driven by case management.
Driving work to the desired outcome – the management
Think of a case as being the electronic folder that includes all the tasks, documents, and data needed to complete the desired outcome. But it's better than a folder. A case also contains the intelligence to retrieve the information you need, drive the processes you want, manage escalations and urgency, detect changes, make the decisions needed to achieve the outcome, and track progress of the work at every stage and step. That's the "management" part of case management. More than just tracking tasks, it drives work towards the goal.
How case management fits into an enterprise platform
Case management is a software-based approach to helping people accomplish daily work and automating work from end-to-end. As part of a true intelligent automation platform, the case is the epicenter and is used to manage and orchestrate tasks, outcomes, even other related sub-cases, all with the goal of completing a journey and delivering a business outcome.
On an enterprise-scale, case management may be used as part of an intelligent automation platform to:
Case management produces real ROI
It all comes down to getting work done. Whether orchestrating bots, connecting the front and back offices, or accelerating scale through reuse - case management helps streamline operations to help employees be more productive and deliver experiences customer demand.
When done right, case management empowers businesses to confidently manage complex work at the enterprise-scale, collaboratively across channels, devices, regions, and organizations, and positively impacts ROI in the short- and long-term.
Pega Platform
Award-winning case management and BPM for continuous operational excellence
Getting value from case management
Case management brings together the people and information needed to get work done completely and correctly – the first time – every time.