A Forrester Study
Forrester study demonstrates 473% ROI from Pega Customer Service
Pegasystems commissioned Forrester consulting to conduct a Total Economic Impact™ (TEI) study and examine the potential return on investment (ROI) enterprises may realize by deploying Pega Customer Service.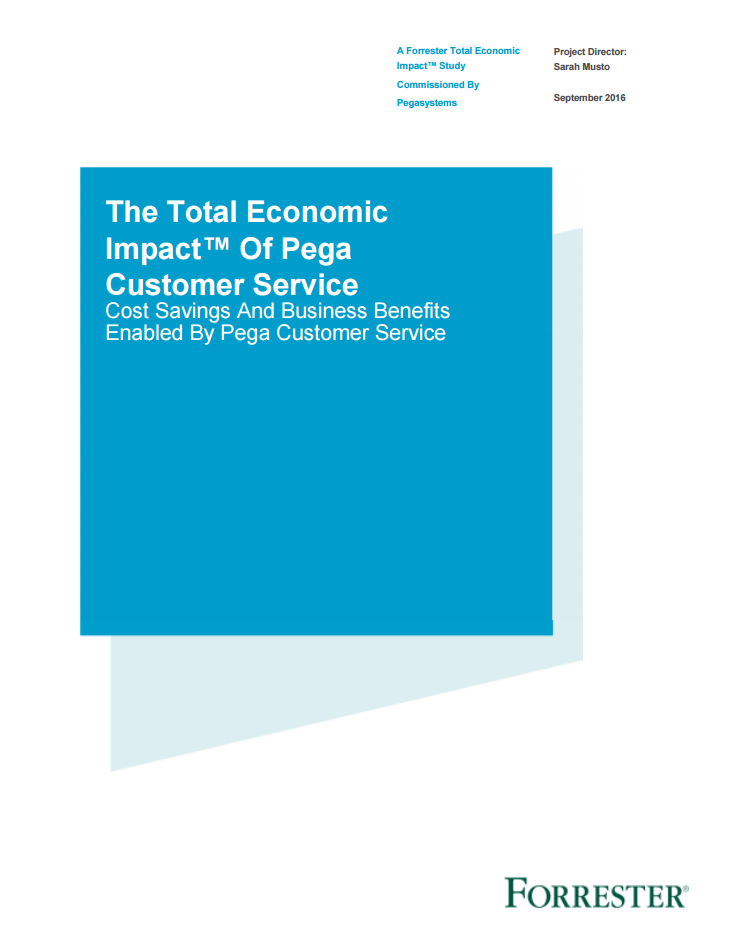 The Total Economic Impact™ Of Pega Customer Service
PDF | 23 pages | 28 mins read
The September 2016 Total Economic Impact™ (TEI) study shows three-year risk-adjusted results, including:
An overall Return On Investment (ROI) of 473%, with a Payback Period of just 6 Months
A 12% reduction in Average Handle Time for the 3-year period
A 15% improvement in the conversion rate, yielding almost 240,000 incremental conversions
A 24% reduction in average customer churn rate
Total benefits of $29.4 million over three years versus costs of $5.1 million, resulting in a net present value (NPV) of over $24 million
Related resources
See how brands like FordDirect and ING Bank are going beyond personalization and getting results.
Pegasystems is the leader in software for digital transformation. Find out more about our 35-year history of helping the world's leading organizations achieve breakthrough business results.
Learn more