Pega Named a Hot Vendor in Robotic Process Automation
Aragon Research recognizes Pega's RPA capability that leverages workforce intelligence to drive better customer engagement and back office efficiency.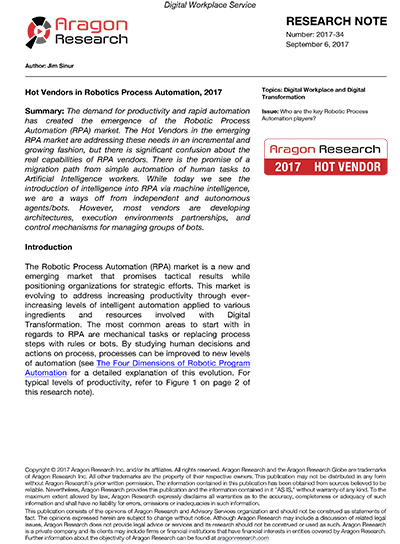 Highlights from the research note:
Pega's secret sauce is its platform (on premise or in the cloud) that applies adaptable configuration of pre-built solutions. The linked RPA allows organizations to link existing applications and replace low-level activities and tasks with bots.
Enterprises that are either looking for pre-built configurable solutions for sales engagement or customer relationship management should evaluate Pega's RPA features.
Organizations who want to start with less of a 'big bang' should consider leveraging Pega's RPA for incremental improvement.
Download the research note to learn more.
Have a business problem? There's a bot for that.
Tiny, yet powerful software robots can make a big impact... if you know what you're doing. Increase productivity and work smarter by deploying the right bot for the right situation.