Track sales performance with interactive dashboards and reporting
Interactive dashboards enable reps and managers to make smarter decisions and spot trends in real time. More than 40 out-of-the-box dashboards track top opportunities, top leads, conversion rates, win/loss analysis, quota status, opportunities by product, and more.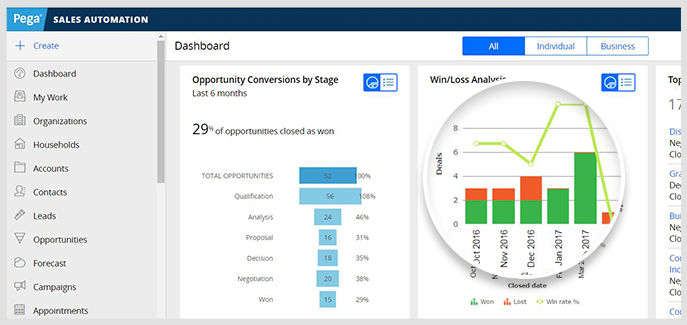 Track changes across partner and direct sales channels
In one environment, managers and executives get a complete view of the business across partner and direct sales teams. Pre-built reports allow reps, executives, and managers to follow who has registered what opportunities, what deals are changing, and more importantly, how and why are they changing.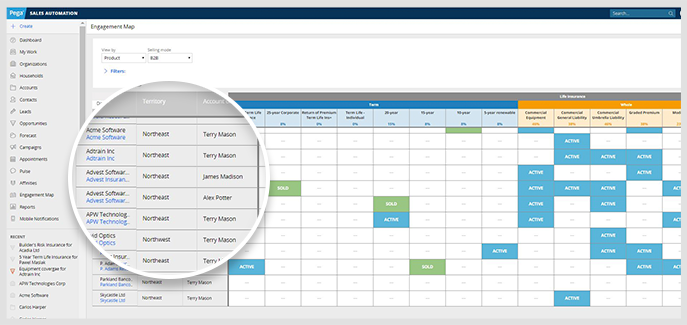 Reports at your finger tips
Dashboards are synchronized to all mobile device (iOS or Android tablet or phone) so busy reps and managers have access to the latest information any time and any where. Pre-built reports that archive weekly changes and trigger alerts, allow managers to quickly spot trends, take action, and manage the business.
Related Resources
Whitepaper
With products, pricing, regulations, channels, and competition changing at a breakneck pace, it's time to reevaluate how your sales automation system is supporting (or slowing down) your business.
Video
Sales is a process and Pega has a history of helping leading global companies optimize their processes.
Analyst Report
Pega was evaluated against three uses cases and scored second highest in B2B Sales and Indirect/Relationship Sales and highest in B2C Sales.
Related Feature
Sales forecasting
Forecast and rollup the sales pipeline by category, quarter and territory on mobile, tablet or desktop.
Related Feature
Sales productivity tools
Enhance efficiency across the entire sales team and eliminate wasted time with integrated marketing campaign tools.