GDPR Strategy: Is your business GDPR-ready?
The EU's General Data Protection Regulation (GDPR) affects every global business that touches an EU resident's data. And hint: your challenge is a whole lot more than just compliance.
Fast track your regulatory readiness
Complimentary Tool for Pega Customers
Pega Customer Service and Pega Platform customers can download our free GDPR Accelerator, a set of customizable templates and sample processes that enable companies to quickly stand up an automated GDPR request process, and orchestrate their own interpretation of GDPR compliance across their enterprise.
Download on Pega App Exchange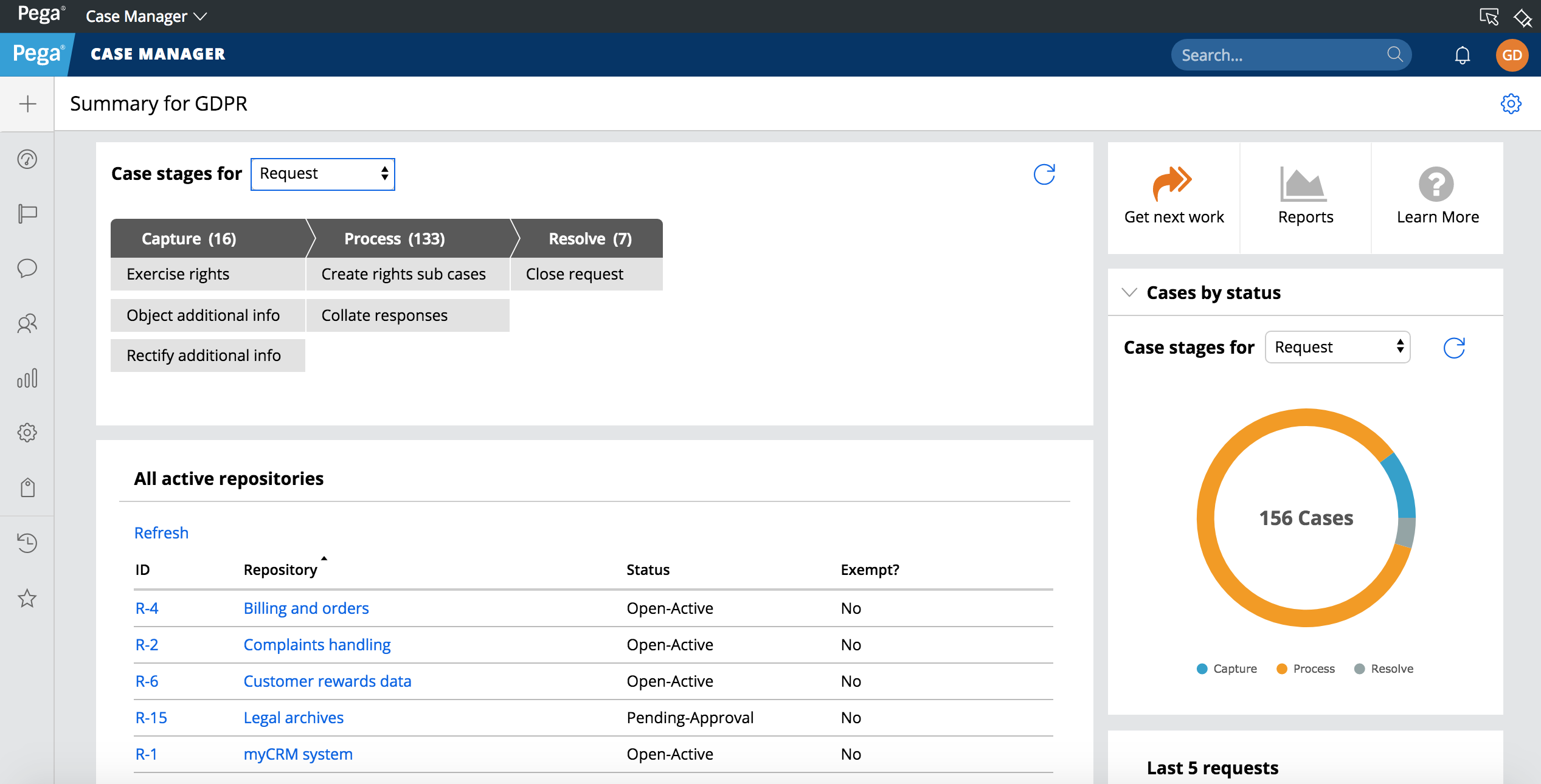 eBook
Largest ever GDPR consumer research study reveals that a majority of E.U. residents plan to act upon their new GDPR data access and erasure rights.
Taking on GDPR
GDPR isn't just a compliance issue, it's a customer engagement challenge that affects your bottom line. This has many businesses now rushing to devise a strategy. And not all strategies are created equal.
What's the big deal?
You need to establish processes to disclose information to any EU resident you do business with, informing them whether personal data concerning them is being processed, where, and for what purpose.
Any EU resident can request a copy of their personal data free of charge, or even demand that you erase all their personal data.
You could even be challenged to explain your business' automated decisions, and much, much more.
To take on the GDPR, you need a system to manage the systems.
GDPR is about end-to-end orchestration, governance, dynamic processes, and auditability. To this end, the question isn't whether you have a system to handle GDPR. It's whether you have a system to manage the systems - you'll need to handle the GDPR.
Pega can help your business fast-track GDPR compliance with industry-leading dynamic case management, and the ability to document, automate and report on your implementation of the GDPR's key requirements from end-to-end.
And about getting those old systems to work within your new automated processes? Not to worry. Your Pega solution for GDPR includes unlimited Robotic Automation to help you connect and automate with ease. No API's required.
White Paper
Learn how your business can solve GDPR risk-readiness and revenue-readiness with a single cohesive strategy.
Achieve GDPR risk-readiness, and revenue-readiness --- in a single solution.
The GDPR's blind spot? It's your revenue. As of May 2018, customers are able to exercise their GDPR right to erasure. Your business may be experiencing a new found data deficit which directly impacts your bottom line
For many of your most important customers, the very data that has fueled your customer insight teams, allowing them to predict and optimize customer lifetime value (CLV), retention, cross-sell and more is gone. Along with it, your current levels of insight effectiveness.
A new strategy will be required. If you plan your strategy right, you can close all of these gaps with the very same budget.
GDPR & automated decision-making
Many businesses are directly impacted by GDPR's articles pertaining to automated decision-making (including articles 13, 14, 15, and 22). The financial services, healthcare, and insurance industries will feel it most.
The key is transparency. Many businesses may be on the hook to explain and share meaningful information about the logic involved in making those automated decisions. For this reason, any business that relies on "black box" or opaque analytic techniques such as deep learning may be forced to shut them off.
Don't miss the big picture. Is this your golden opportunity?
Don't mistake this moment. The brands that win are the ones that view GDPR as a golden opportunity rather than a pesky compliance issue. If you set the requirements right, your infrastructure can underpin your business's future, build customer trust, and drive greater revenue.
Of course, you'll need to work with the right partner. Find out how Pega can empower your business for GDPR success.