Pega is a strong performer in Salesforce Automation and top-ranked in current offering
Pegasystems was cited as a strong performer and received the highest score in Current Offering amongst the 10 vendors who were evaluated against 35 criteria in The Forrester Wave™: Sales Force Automation Solutions, Q2 2017. "Customers give Pegasystems high marks for its platform's ability to adapt to the most complex business needs."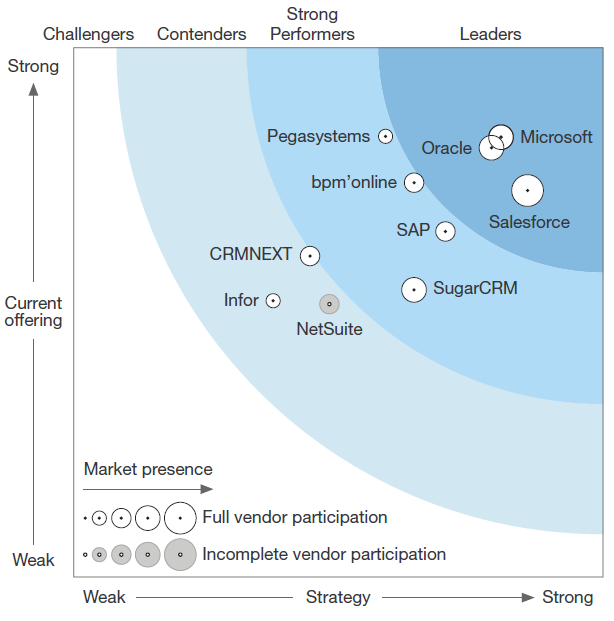 Highlights from the report:
Pegasystems received the highest scores possible in Opportunity management, Sales process support, Territory and quota management and Product catalogs and price lists.
"Pegasystems is best for companies with sales processes that are complex or require customer involvement. Pegasystems' background in financial services, insurance, and healthcare make it a strong solution for managing complex sales and supporting customer engagement functions."
The Forrester Wave is copyrighted by Forrester Research, Inc. Forrester and Forrester Wave are trademarks of Forrester Research, Inc. The Forrester Wave is a graphical representation of Forrester's call on a market and is plotted using a detailed spreadsheet with exposed scores, weightings, and comments. Forrester does not endorse any vendor, product, or service depicted in the Forrester Wave. Information is based on best available resources. Opinions reflect judgment at the time and are subject to change.
Are your sales tools falling short?
Sales excellence is possible – with the right technology. See how to sell faster and smarter with Pega's powerfully intelligent software.