Digital process automation software evaluation names Pega a leader
Pegasystems was cited as a leader and received the highest possible score in 20 criteria in The Forrester Wave™: Digital Process Automation Software, Q3 2017.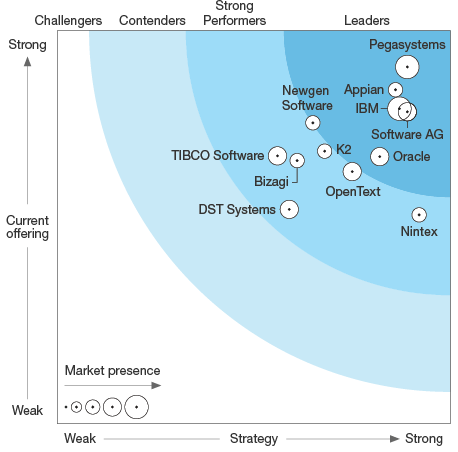 Highlights from the report:
"Aimed squarely at solving the most complex process challenges, Pegasystems offers a wide and deep set of capabilities including dynamic case management, robotic process automation (RPA), mobile applications, document management, no-code development environment, and business decision management that includes machine learning to determine next best action."
"Pegasystems also offers business applications, including customer relationship management, salesforce and marketing automation, and call center software, all based on the same consistent process platform that drives its DPA offering. When fully adopted by an enterprise, this approach creates a highly unified and agile architecture."
"Also, it's important to note that Pegasystems has a long history of investment in the AI space: This is already evident in its platform, but it will pay off even more as AI becomes a core requirement for DPA."
The Forrester Wave is copyrighted by Forrester Research, Inc. Forrester and Forrester Wave are trademarks of Forrester Research, Inc. The Forrester Wave is a graphical representation of Forrester's call on a market and is plotted using a detailed spreadsheet with exposed scores, weightings, and comments. Forrester does not endorse any vendor, product, or service depicted in the Forrester Wave. Information is based on best available resources. Opinions reflect judgment at the time and are subject to change.
Uncover the solution to your complex process problems
Don't just get through tasks. With end-to-end automation, you'll orchestrate digital processes, people, and systems along one platform and see transformational results.