Pega is #1 in software for customer engagement and operational excellence
ぺガは、カスタマーエンゲージメントとオペレーショナルエクセレンスのための ソフトウェアのトッププロバイダーです
Pegasystems offers strategic applications for sales, marketing, services and management. Pega applications makes work logical. It seamlessly connects management channels and clients in real time, making it easy to react to any sudden changes. Pega's clients are among the world's top companies, many of whom have been named in Forbes Global 2000. Pega applications are built using our unified Pega platform and can be used on-site and in the cloud. This platform uses visual tools, making it easy to expand and change applications to match the client's business needs. Pega has been highly praised by its customers for providing value, reducing work time, incredibly fast development, efficient reuse of data, and comprehensive scalability.
Mizuho Bank
Reengineering the Processes of a Global Corporate Business - The Pursuit of a Paperless Office
Check out the case study
Tokio Marine
The Challenge of Digital Reform - Outgrowing the Need for Paper and Excel, Facilitating Efficient and Higher Quality Business
Check out the case study
Nissha
Transforming business with shorter time to market
Check out the case study
Company Information
Company Name
Pega Japan K.K.
Address
Tokyo Chiyoda-ku Hirakawacho 1-1-1 Hirakawacho Court Floor 8
Telephone Number
03-3221-2455
Managing Director
Nobuhiko Watanabe
Founded
January 2011
Pega's adaptable cloud architecture software is built using our Pega® unified platform, allowing for quick development and easy expansion and changes to applications to reliably meet strategic business needs. Pega has a 30 year history of practically applying advanced AI and robotic automation to award winning CRM and BPM, as well providing support which has allowed the world's leading brands to achieve breakthrough business results. We provide strategic applications and dynamic solutions for top Forbes Global 3000 companies and aid in promoting stronger sales, marketing, services and operations.
E-Mail Address
Headquarters Information
Pegasystems Inc (NASDAQ:PEGA)
Access
By train:
Tokyo Metro: 2 minute walk from Hanzomon Station, Exit 1.
5 minute walk from Kōjimachi Station, Exit 1.
12 minute walk from Nagatacho Station and Akasaka-mitsuke Station.
A word from Nobuhiko Watanabe
Pega aims to build new value through promoting the digital revolution for everyone.
Founder Alan Trefler started Pegasystems 35 years ago in the Boston metropolitan area. Even now he continues to support a digital revolution for everyone, advocating "Build for Change" for a wide variety of businesses all across the globe.
With his expertise, knowledge and experience, he wanted to contribute to Japanese businesses and founded Pega Japan K.K. in Tokyo in January 2011. Pega Japan K.K. has made leaps and bounds as an IT business thanks to everyone's support.
Now Pega Japan has matured into the IT company it is today, but we do not just aim to just improve work efficiency or reduce work load, we believe it is even more important to create value for our customers who are leading the way in the IT industry.
Pega utilizes advanced AI and robotic automation technology to provide integrated digitalization capabilities that overcome individual areas such as conventional CRM and BPM. We use the experience we have gained providing a multitude of businesses across the globe breakthrough business results to continue providing value to Japanese companies and organizations, and thus Japanese society as a whole.
Pega Japan K.K.
Managing Director, Nobuhiko Watanabe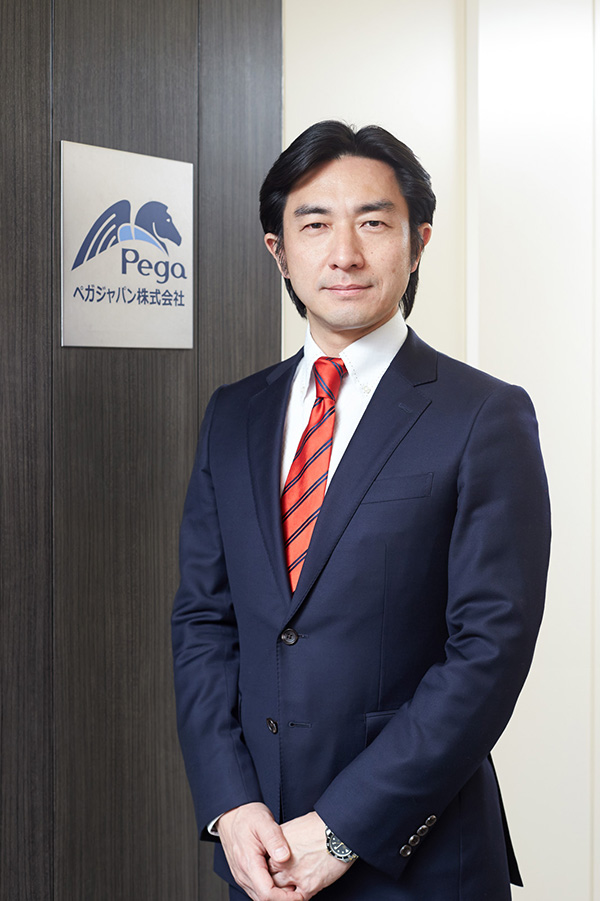 Careers at Pega in Japan
We're dynamic, evolving, and growing fast. If you're passionate about using technology to help brands work smarter, deliver results faster, and engage customers like never before, then you're in the right place.
See all openings
Why work here
More than just software

We're big on making the world a better place for everyone. We're looking for dreamers, thinkers, and doers. We promote giving, volunteering, and building opportunities for all.
Fast-paced and flexible

When it comes to getting things done, we're laser-focused. But we also make time to lead fulfilling lives outside of work. It's all about balance. The key to our success is our people.
Inclusive culture

We are committed to closing the gender gap at Pega. We promote a smarter way to work for everyone, and we believe diversity makes for a better business, especially in the traditionally male-dominated world of tech.
"Pega Japan provides small start-up opportunity in the context of a large, global, and growing business."
"Everyone here is customer-oriented and has passion for Pega solutions, and that's why I have high motivation and enjoy working to make clients successful."
"Pega Japan is a multinational family made up of team members from more than six countries."