Connect email and CRM. Sync Pega with Outlook and Exchange
Maximize your selling time
Full bi-directional Exchange sync permits managers and reps to see calendar free/busy time across sales teams and to expose this information to customers and prospects so sales appointments can be setup.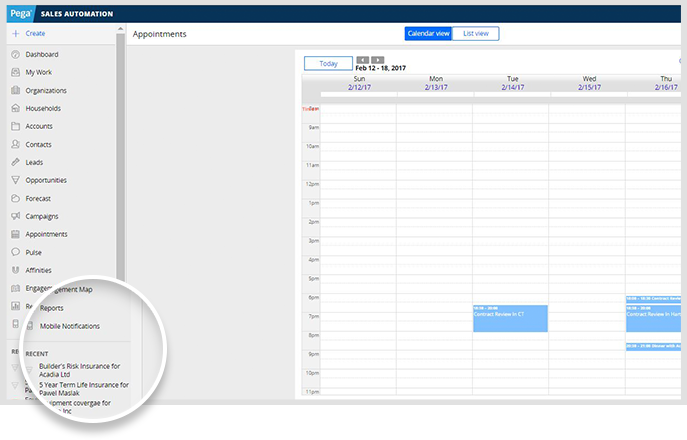 Keep up to date from your inbox
The Outlook plugin allows emails to be synced back to Pega Sales Automation with a single click to allow for tracking of activities and for audit purposes. It also allows for the quick creation of contacts, leads and opportunities, and the global search gives you access to all of your data without having to leave Outlook.
Leverage Outlook data for CRM
Email and appointment data is used to rollup and generate reports on client interactions and engagement. Email and appointment data is also used by the AI engine to provide real-time suggested offers and actions to sales while also taking into account marketing and customer service activities.
Related Resources
Whitepaper
With products, pricing, regulations, channels, and competition changing at a breakneck pace, it's time to reevaluate how your sales automation system is supporting (or slowing down) your business.
Video
Sales is a process and Pega has a history of helping leading global companies optimize their processes.
Related Feature
Sales productivity tools
Enhance efficiency across the entire sales team and eliminate wasted time with integrated marketing campaign tools.
Related Feature
Mobile sales applications
Designed specifically for the mobile sales rep or manager, the mobile app provides an intuitive user experience to automate and streamline common sales activities.