Pegasystems announces financial results for second quarter and first six months of 2016
Total revenue growth exceeds 16% for first half 2016
CAMBRIDGE, Mass. – August 3, 2016 – Pegasystems Inc. (NASDAQ: PEGA), the software company empowering the world's leading enterprises with strategic applications for customer engagement, today announced results for its second quarter and six months ended June 30, 2016.
"We are pleased with our results for the first half of 2016," said Alan Trefler, Founder and CEO of Pegasystems. "An increasing number of organizations are choosing Pega® applications to improve their business outcomes by combining the power of insight, action, and evolution to enhance customer experiences. We continue to see the world's leading organizations and governments adopt the Pega® Platform as the engine to drive their digital transformation."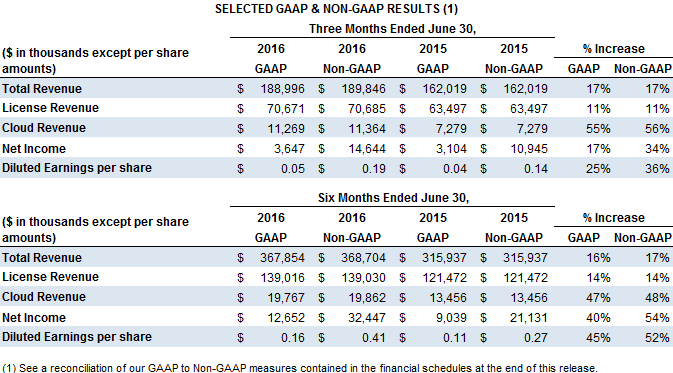 View the full press release with financials.
"It was good to see strength in the first half of 2016 despite global volatility and adverse currency shifts," said Ken Stillwell, Pegasystems CFO. "We continue to drive long-term, strategic value for our new and existing clients who select us as their key strategic partner. While our openness to licensing to clients through term, cloud, or perpetual can lead to quarterly variations, we are excited by our long-term growth trend as a true value measure."
Cash: Total cash, cash equivalents, and marketable securities at June 30, 2016 was $137.6 million, down 37% from 2015 year-end, primarily due to the cash payment of $48.8 million to acquire OpenSpan Inc. ("OpenSpan"), net of cash acquired.
Cash generated from operations for the first six months of 2016 was $9.3 million.
License and Cloud Backlog: The Company computes license and cloud backlog by adding deferred license and cloud revenue as recorded on the Company's balance sheet and license and cloud commitments, which are not billed and not recorded on its balance sheet.

Quarterly Conference Call
Pegasystems will host a conference call and audio-only Webcast associated with this announcement at 5:00 p.m. EDT today. A live audio Webcast of the conference call, together with detailed financial information, can be accessed through the Company's Website at www.pega.com/about/investors. Dial-in information is as follows: 1-877-705-6003 (domestic) or 1-201-493-6725 (international). To listen to the Webcast, log onto www.pega.com at least five minutes prior to the event's broadcast and click on the Webcast icon in the Investors section. A replay of the call will also be available on www.pega.com by clicking the Earnings Calls link in the Investors section.
Discussion of Non-GAAP Financial Measures:
To supplement financial results presented in accordance with Generally Accepted Accounting Principles in the U.S. ("GAAP"), the Company provides non-GAAP measures, including in this release. Pegasystems' management utilizes a number of different financial measures, both GAAP and non-GAAP, in analyzing and assessing the overall performance of the business, for making operating decisions, and for forecasting and planning for future periods. The Company's annual financial plan is prepared both on a GAAP and non-GAAP basis, and both are approved by our board of directors. In addition and as a consequence of the importance of these measures in managing the business, the Company uses non-GAAP measures and financial performance results in the evaluation process to establish management's compensation.
The non-GAAP measures exclude the effects of certain business combination accounting entries, stock-based compensation expense, amortization of acquired intangibles, acquisition-related and restructuring expenses, and certain other adjustments. The Company believes that these non-GAAP measures are helpful in understanding its past financial performance and its anticipated future results. These non-GAAP financial measures are not meant to be considered in isolation or as a substitute for comparable GAAP measures and should be read only in conjunction with the Company's consolidated financial statements prepared in accordance with GAAP. A reconciliation of the Company's GAAP to non-GAAP measures is included in the financial schedules at the end of this release.
Forward-Looking Statements
"Safe harbor" statement under the Private Securities Litigation Reform Act of 1995: Certain statements contained in this press release may be construed as "forward-looking statements" as defined in the Private Securities Litigation Reform Act of 1995. The words "expect," "anticipate," "intend," "plan," "believe," "could," "estimate," "may," "target," "strategy," "is intended to," "project," "guidance", or variations of such words and similar expressions, among others, identify forward-looking statements, which speak only as of the date the statement was made. These statements are based on current expectations and assumptions and involve various risks and uncertainties, which could cause the Company's actual results to differ from those expressed in such forward-looking statements. These risks and uncertainties include, among others, variation in demand for our products and services and the difficulty in predicting the completion of product acceptance and other factors affecting the timing of our license revenue recognition; the ongoing consolidation in the financial services, insurance, healthcare, and communications markets; reliance on third party relationships; the potential loss of vendor specific objective evidence for our time and materials professional services arrangements; the inherent risks associated with international operations and the continued weakness in international economies; foreign currency exchange rates; the financial impact of the Company's past acquisitions, including the OpenSpan acquisition, and any future acquisitions; the potential legal and financial liabilities and reputation damage due to cyber-attacks and security breaches; and management of the Company's growth. Further information regarding these and other factors which could cause the Company's actual results to differ materially from any forward-looking statements contained in this press release is contained in the Company's Annual Report on Form 10-K for the year ended December 31, 2015 and other recent filings with the Securities and Exchange Commission. These documents are available on the Company's website at https://www.pega.com/about/investors. The forward-looking statements contained in this press release represent the Company's views as of August 3, 2016. Investors are cautioned not to place undue reliance on such forward-looking statements and there are no assurances that the matters contained in such statements will be achieved. Although subsequent events may cause the Company's view to change, except as required by applicable law, the Company does not undertake and specifically disclaims any obligation to publicly update or revise these forward-looking statements whether as the result of new information, future events or otherwise. The statements should therefore not be relied upon as representing the Company's view as of any date subsequent to August 3, 2016.
---