Pega Cloud Continues to Expand in Third Quarter of 2020
Pega Cloud ACV up 57% to $232 million and total ACV up 21% to $777 million
Backlog grows 38% to $838 million
Pega Cloud mix grows to 66% of new client commitments in Q3 2020
CAMBRIDGE, Mass. — October 28, 2020 — Pegasystems Inc. (NASDAQ: PEGA), the software company empowering digital transformation at the world's leading enterprises, released its financial results for the third quarter of 2020.
"Our results through Q3 demonstrate our ability to forge through and succeed during a challenging time," said Alan Trefler, founder and CEO, Pegasystems. "Digital transformation is central to our clients' continued existence and prosperity, and our software is ideally suited for organizations that continue to face immediate needs today while they transform for tomorrow."
"Our subscription revenue grew 27 percent year over year in the first nine months of 2020, reflecting the impact of passing the midpoint of our cloud transition," said Ken Stillwell, CFO, Pegasystems. "This demonstrates the power of achieving ACV growth of more than 20 percent over multiple years. With over $450 million of cash and investments on the balance sheet and an impressive portfolio of enterprise clients, Pega is in a strong position to capture an even greater share of the $50+ billion market for digital transformation solutions."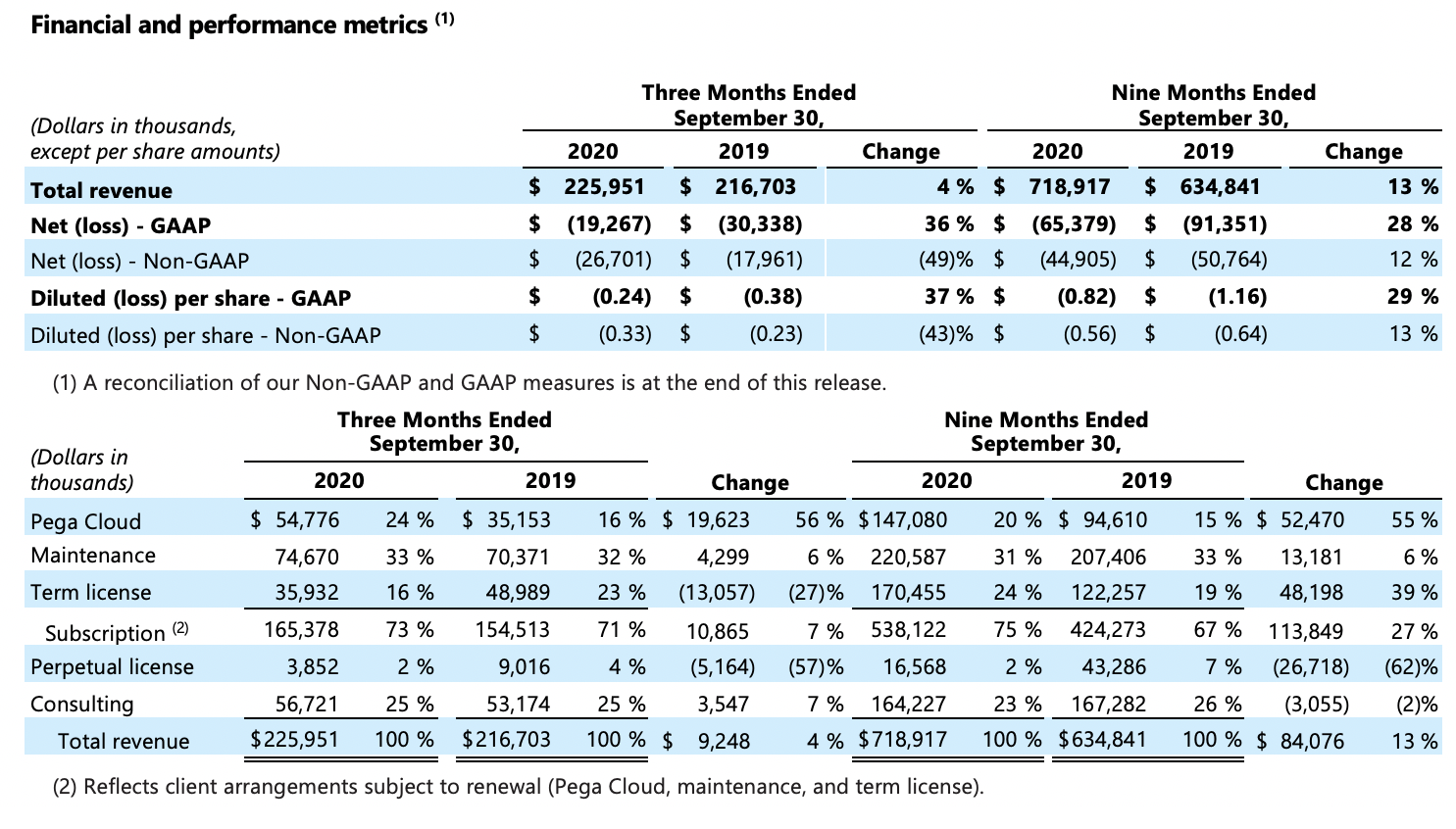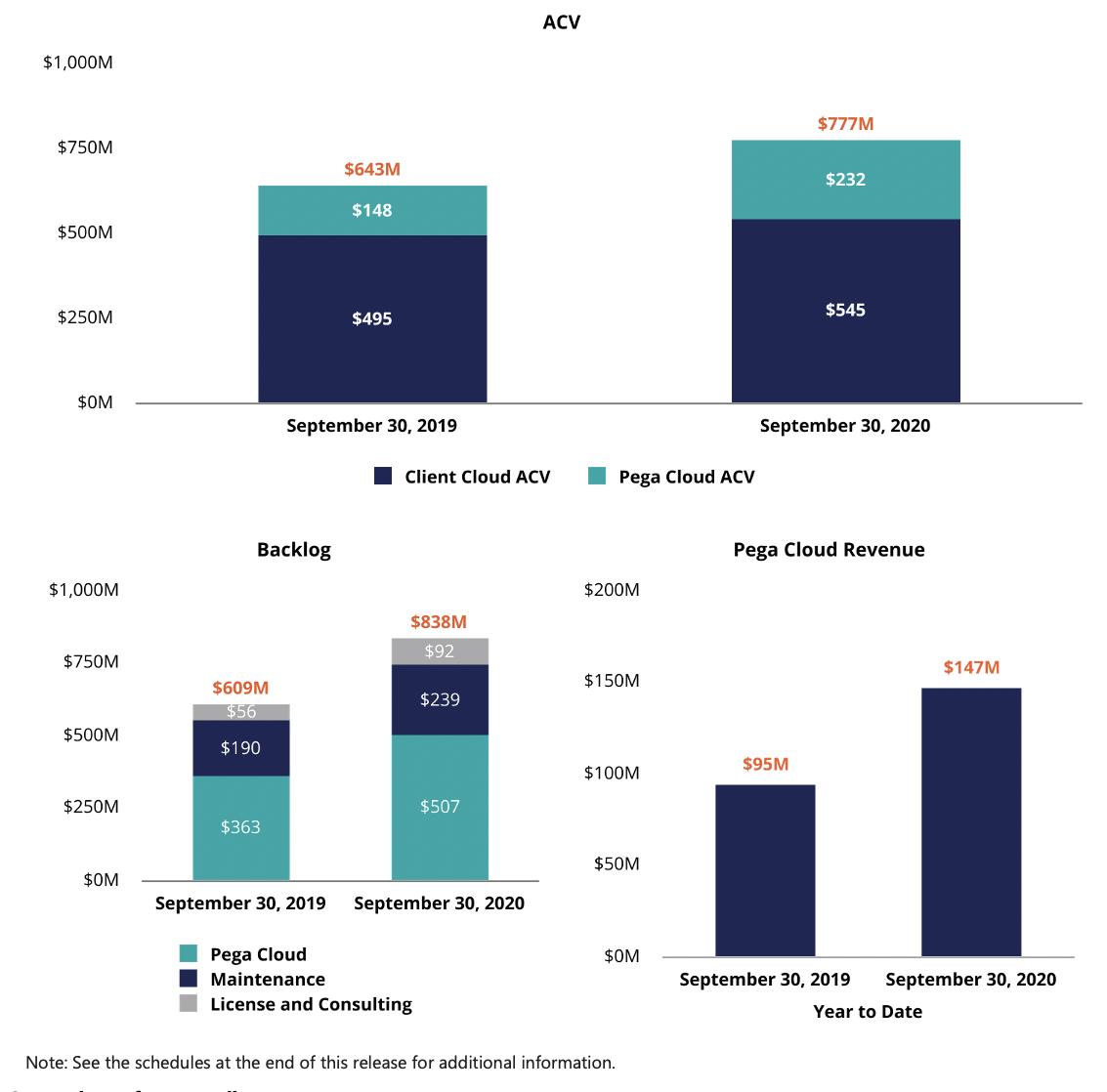 View full press release with financials
Quarterly conference call
We will conduct a conference call and audio-only webcast at 5:00 p.m. EDT on October 28, 2020.
Members of the public and investors may join the call and participate in the question and answer session by dialing 1-800-289-0438 (domestic), 1-323-794-2423 (international), or via webcast (http://public.viavid.com/index.php?id=142049) by logging onto www.pega.com at least five minutes before the event's broadcast and clicking on the webcast icon in the Investors section.
A replay of the call will also be available on www.pega.com by clicking the Earnings Calls link in the Investors section.
Discussion of Non-GAAP financial measures
To supplement our GAAP financial results presented, we provide Non-GAAP measures, including in this release. We utilize several different financial measures, both GAAP and Non-GAAP, to analyze and assess the business' overall performance, make operating decisions, and forecast and plan for future periods. We prepare our annual financial plan on both a GAAP and a Non-GAAP basis. We use Non-GAAP measures in the evaluation process to establish management compensation because of the importance of these measures in managing the business.
The Non-GAAP measures exclude the effects of stock-based compensation expense, amortization of intangible assets, foreign currency transaction gains and losses, costs from the issuance of our convertible senior notes and the related capped call transactions, gains and losses arising from our venture investments, gains and losses from our capped call transactions, gains and losses from the change in the format of PegaWorld, and related income tax effects. Non-GAAP measures allow investors and others to better understand and evaluate operating results and prospects in the same manner as management, compare financial results across accounting periods, and better understand our core business's long-term performance. We also use Non-GAAP measures for purposes of determining company-wide incentive compensation.
Non-GAAP financial measures should not be considered in isolation or as a substitute for comparable GAAP measures. Our Non-GAAP financial measures should only be read in conjunction with our consolidated GAAP financial statements.
A reconciliation of our Non-GAAP and GAAP measures is at the end of this release.
Forward-looking statements
In this press release, certain statements may be "forward-looking statements" as defined in the Private Securities Litigation Reform Act of 1995. Words such as expects, anticipates, intends, plans, believes, will, could, should, estimates, may, targets, strategies, intends to, projects, forecasts, guidance, likely, and usually, or variations of such words and other similar expressions identify forward-looking statements, which are based on current expectations and assumptions.
These forward-looking statements deal with future events, and are subject to various risks and uncertainties that are difficult to predict, including, but not limited to, statements about our future financial performance and business plans, the adequacy of our liquidity and capital resources, the continued payment of quarterly dividends, the timing of revenue recognition, management of our transition to a more subscription-based business model, variation in demand for our products and services, including among clients in the public sector, the impact of actual or threatened public health emergencies, such as the Coronavirus (COVID-19), reliance on third-party service providers, compliance with our debt obligations and debt covenants, the potential impact of our convertible senior notes and related Capped Call Transactions, reliance on key personnel, the continued uncertainties in the global economy, foreign currency exchange rates, the potential legal and financial liabilities and reputation damage due to cyber-attacks, security breaches and security flaws, our ability to protect our intellectual property rights and costs associated with defending such rights, maintenance of our client retention rate, and management of our growth. These risks and others that may cause actual results to differ materially from those expressed in such forward-looking statements are described further in Part I of our Annual Report on Form 10-K for the year ended December 31, 2019, and other filings we make with the U.S. Securities and Exchange Commission ("SEC"). These documents are available on our website at www.pega.com/about/investors.
Except as required by applicable law, we do not undertake and expressly disclaim any obligation to publicly update or revise these forward-looking statements whether as the result of new information, future events, or otherwise.
The forward-looking statements contained in this press release represent our views as of October 28, 2020.
About Pegasystems
Pega is the leader in cloud software for customer engagement and operational excellence. The world's most recognized and successful brands rely on Pega's AI-powered software to optimize every customer interaction on any channel while ensuring their brand promises are kept. Pega's low-code application development platform allows enterprises to quickly build and evolve apps to meet their customer and employee needs and drive digital transformation on a global scale. For more than 35 years, Pega has enabled higher customer satisfaction, lower costs, and increased customer lifetime value.
---