We'd prefer it if you saw us at our best.
Pega.com is not optimized for Internet Explorer. For the optimal experience, please use:
Pega Cloud ACV Grows 51%** in the First Three Quarters of 2019
Total ACV up 20%** to $634 million, powered by Pega Cloud Choice™
Pega Cloud RPO ("backlog") up 38% to $363 million
Pega Cloud Revenue up 63% to $95 million year to date through Q3
** Constant Currency
CAMBRIDGE, Mass. — November 7, 2019 — Pegasystems Inc. (NASDAQ: PEGA), the software company empowering digital transformation at the world's leading enterprises, released its financial results for the third quarter of 2019.
"I'm pleased with the state of our business as we continue to make strong progress in our transition to Cloud," said Alan Trefler, founder and CEO, Pegasystems. "It's terrific to see the continued momentum in our traditional markets as well as enthusiasm in some of our newer industries. For example, over recent weeks we've engaged more than 1,000 thought leaders from our clients and prospects in the government and healthcare industries through our customer engagement roadshow."
"Total ACV increased 20% in constant currency year over year, reaching $634 million," said Ken Stillwell, CFO, Pegasystems. "This strong ACV growth reflects solid demand worldwide for our digital transformation solutions."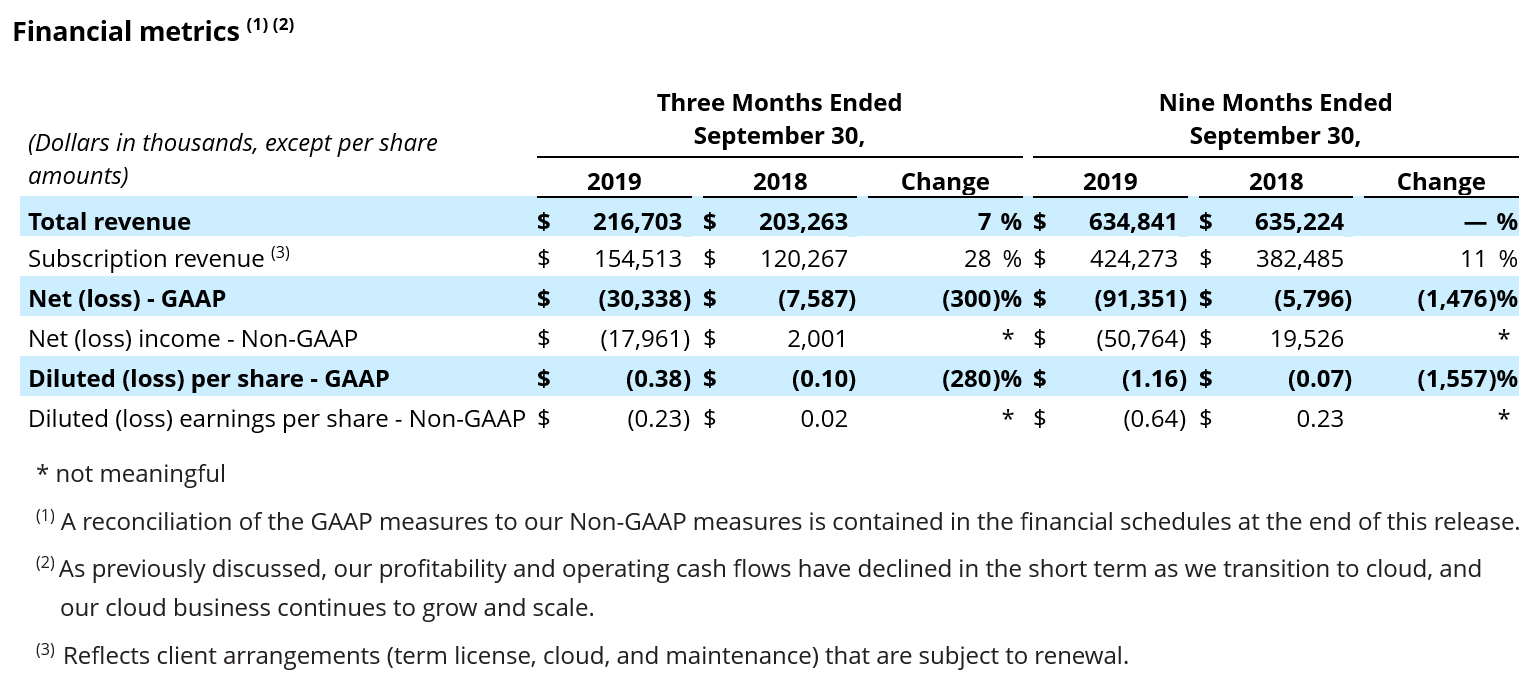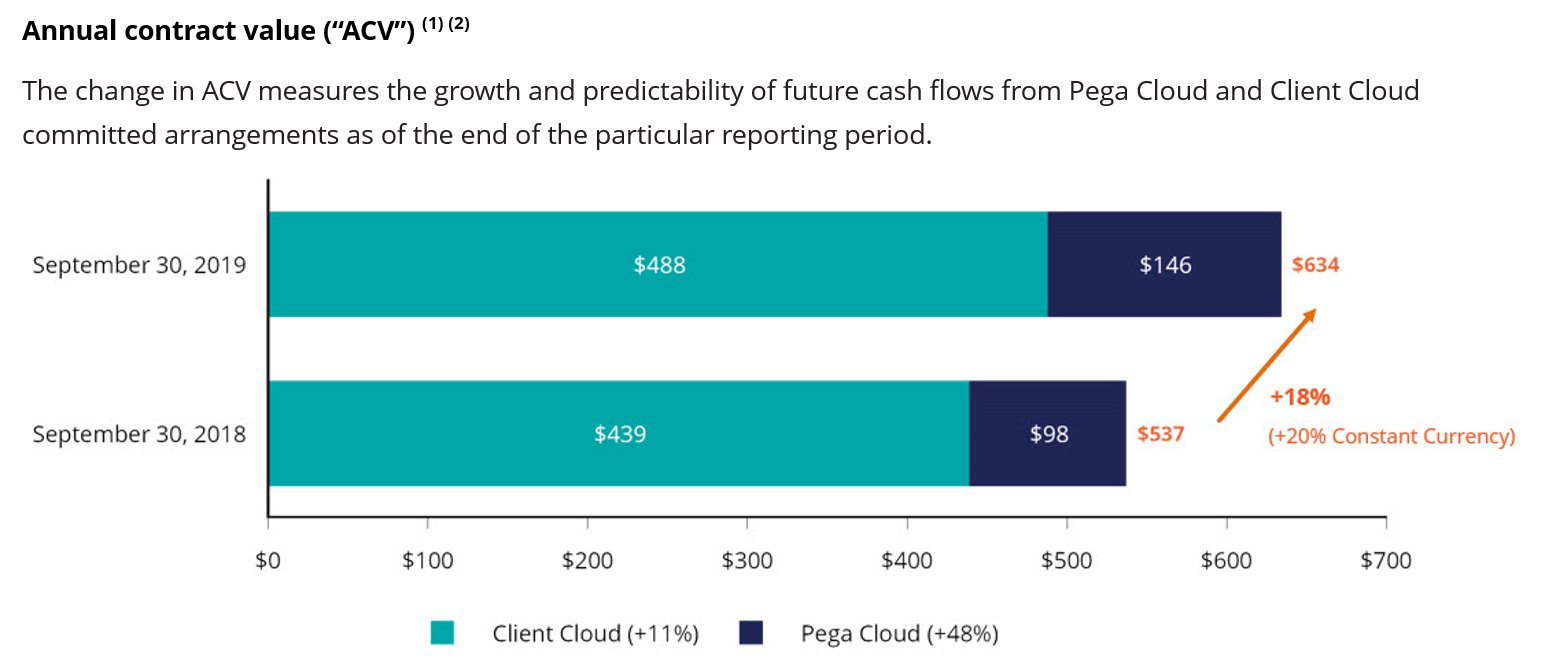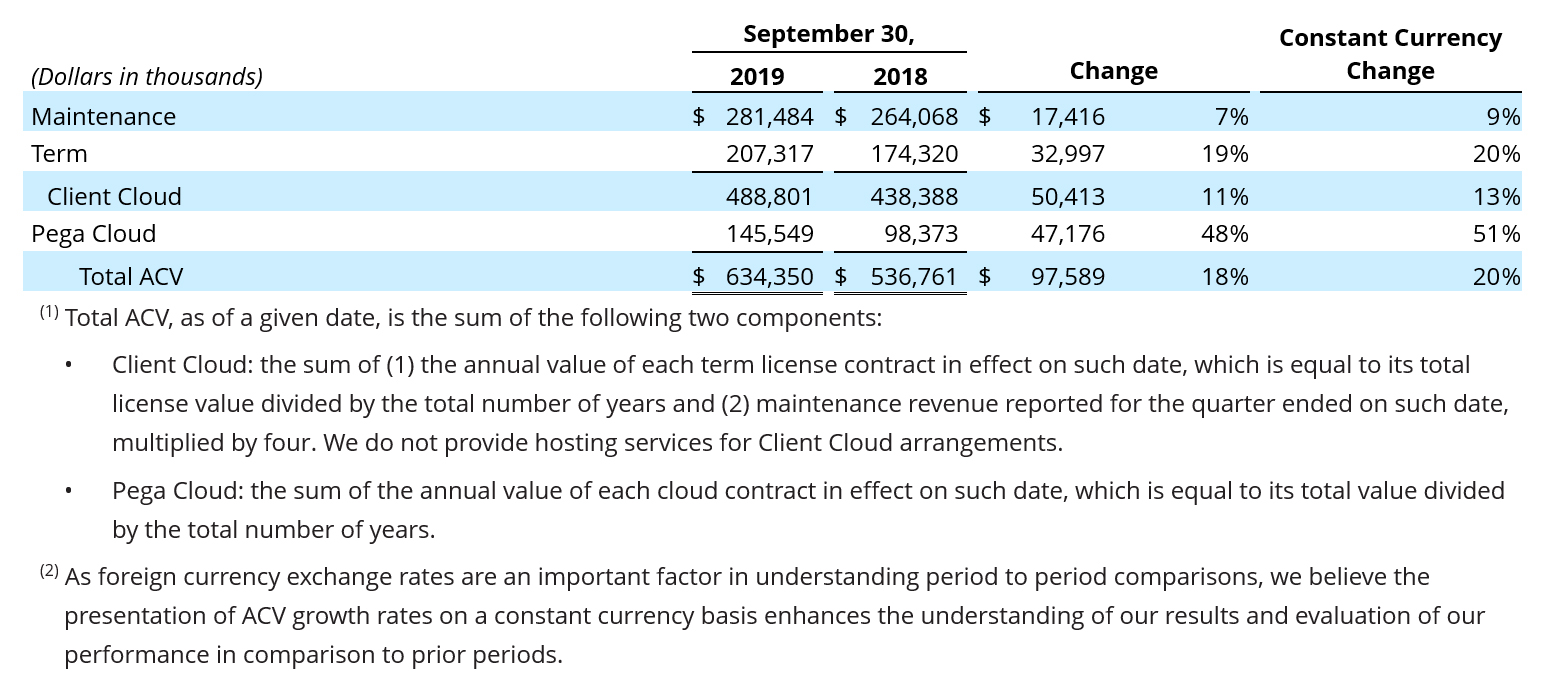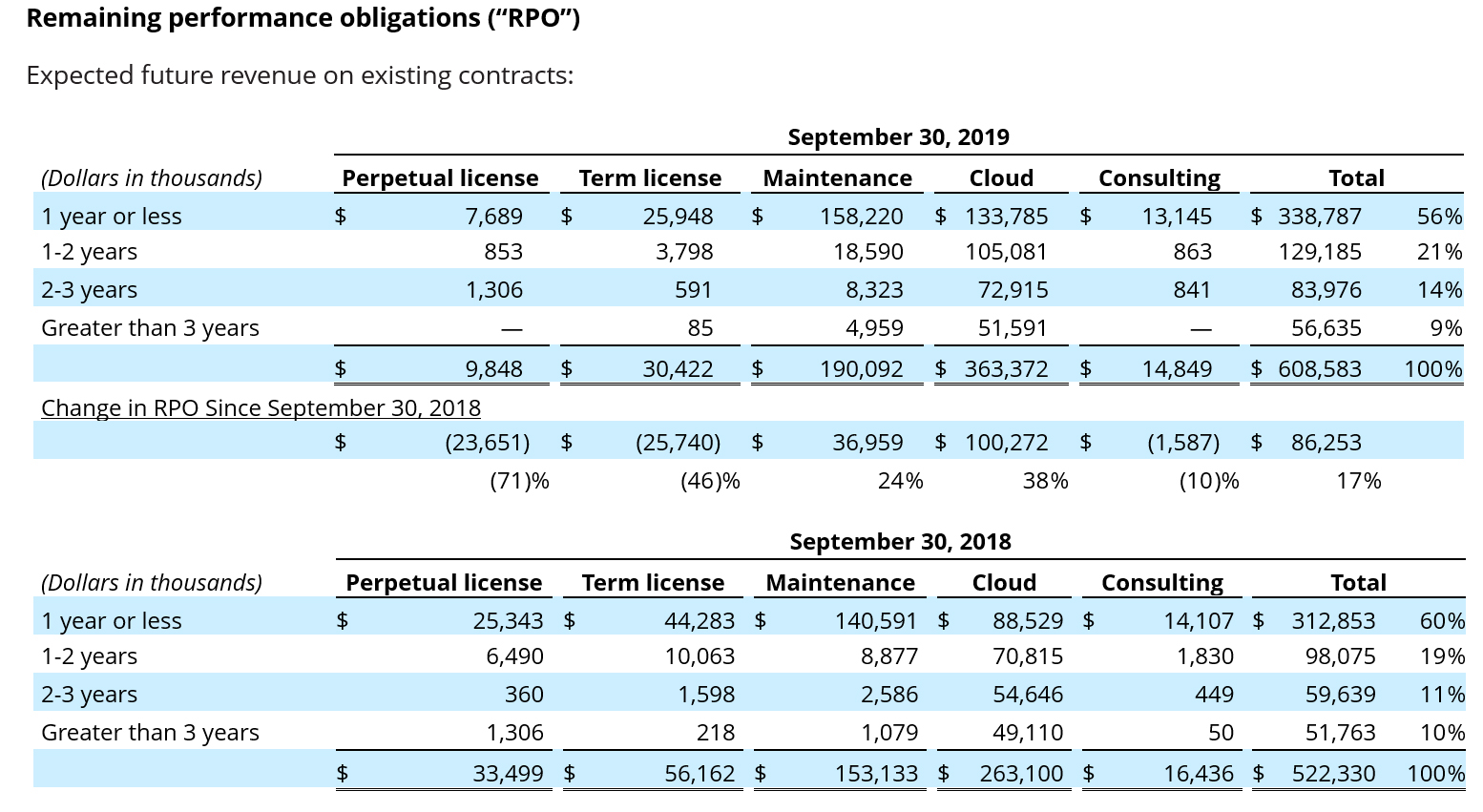 View the full press release with financials
Quarterly conference call
A conference call and audio-only webcast will be conducted at 5:00 p.m. EDT on November 7, 2019.
Members of the public and investors are invited to join the call and participate in the question and answer session by dialing 1-877-300-8521 (domestic), 1-412-317-6026 (international), or via webcast by logging onto www.pega.com at least five minutes prior to the event's broadcast and clicking on the webcast icon in the Investors section.
A replay of the call will also be available on www.pega.com/about/investors by clicking the earnings calls link in the investors section.
Discussion of non-GAAP financial measures
To supplement the financial results presented in accordance with generally accepted accounting principles in the U.S. ("GAAP"), we provide non-GAAP measures, including in this release. We utilize several different financial measures, both GAAP and non-GAAP, in analyzing and assessing the overall performance of the business, for making operating decisions, and for forecasting and planning for future periods. Our annual financial plan is prepared on both a GAAP and a non-GAAP basis, and both are approved by our board of directors. In addition, because of the importance of these measures in managing the business, we use non-GAAP measures, and financial performance results in the evaluation process to establish management's compensation.
The non-GAAP measures exclude the effects of stock-based compensation expense, amortization of intangible assets, and foreign currency transaction gains and losses. We believe these non-GAAP measures are helpful in understanding its past financial performance and its anticipated future results.
These non-GAAP financial measures are not meant to be considered in isolation or as a substitute for comparable GAAP measures. They should be read-only in conjunction with our consolidated financial statements prepared in accordance with GAAP.
A reconciliation of the GAAP measures to our Non-GAAP measures is contained in the financial schedules at the end of this release.
Forward-looking statements
Certain statements contained in this press release may be construed as "forward-looking statements" as defined in the Private Securities Litigation Reform Act of 1995.
These forward-looking statements are based on current expectations, estimates, forecasts, and projections about the industry and markets in which we operate and management's beliefs and assumptions. In addition, other written or oral statements that constitute forward-looking statements may be made by us or on our behalf. Words such as "expect," "anticipate," "intend," "plan," "believe," "could," "estimate," "may," "target," "strategy," "is intended to," "project," "guidance," "likely," "usually," or variations of such words and similar expressions are intended to identify such forward-looking statements.
Important factors that could cause actual future activities and results to differ materially from those expressed in such forward-looking statements include, among others, variation in demand for our products and services, reliance on third-party relationships, reliance on key personnel, the inherent risks associated with international operations and the continued uncertainties in the global economy, our continued effort to market and sell both domestically and internationally, foreign currency exchange rates, the potential legal and financial liabilities and reputation damage due to cyber-attacks and security breaches, and management of our growth. These risks and other factors that could cause actual results to differ materially from those expressed in such forward-looking statements are described more completely in Part I of our Annual Report on Form 10-K for the year ended December 31, 2018, and other filings we make with the U.S. Securities and Exchange Commission ("SEC"). These documents are available on the Company's website at www.pega.com/about/investors.
Investors are cautioned not to place undue reliance on such forward-looking statements, and there are no assurances that the results contained in such statements will be achieved. Although new information, future events, or risks may cause actual results to differ materially from future results expressed or implied by such forward-looking statements, except as required by applicable law, we do not undertake and expressly disclaim any obligation to publicly update or revise these forward-looking statements whether as the result of new information, future events, or otherwise.
The forward-looking statements contained in this press release represent the Company's views as of November 7, 2019.
---
The information contained in this press release is not a commitment, promise, or legal obligation to deliver any material, code or functionality. The development, release and timing of any features or functionality described remains at the sole discretion of Pegasystems, Pegasystems specifically disclaims any liability with respect to this information.