Cloud Growth Drives Pega Through $1 Billion Milestone in 2020
Pega Cloud ACV grew more than 50% to $267 million
Total Backlog up 28% to over $1 billion
Total Revenue Exceeds $1 billion for the first time
2021 Revenue Guidance of $1.25 billion
CAMBRIDGE, Mass. — February 17, 2021 — Pegasystems Inc. (NASDAQ: PEGA), the software company that crushes business complexity, released its financial results for the fourth quarter and full-year 2020.
"The last year has made it abundantly clear that organizations need to accelerate their digital transformation to compete and thrive in a world that is constantly changing," said Alan Trefler, founder and CEO, Pegasystems. "We have never been better positioned to support this need with our scalable low code solutions."
"Pega Cloud ACV grew more than 50 percent year over year, increasing to $267 million," said Ken Stillwell, CFO, Pegasystems. "And, at the same time, Pega Cloud gross margins expanded from 51 percent to 63 percent. We expect Pega Cloud revenue growth acceleration and gross margin expansion will be key contributors to drive future Pega profitability and growth."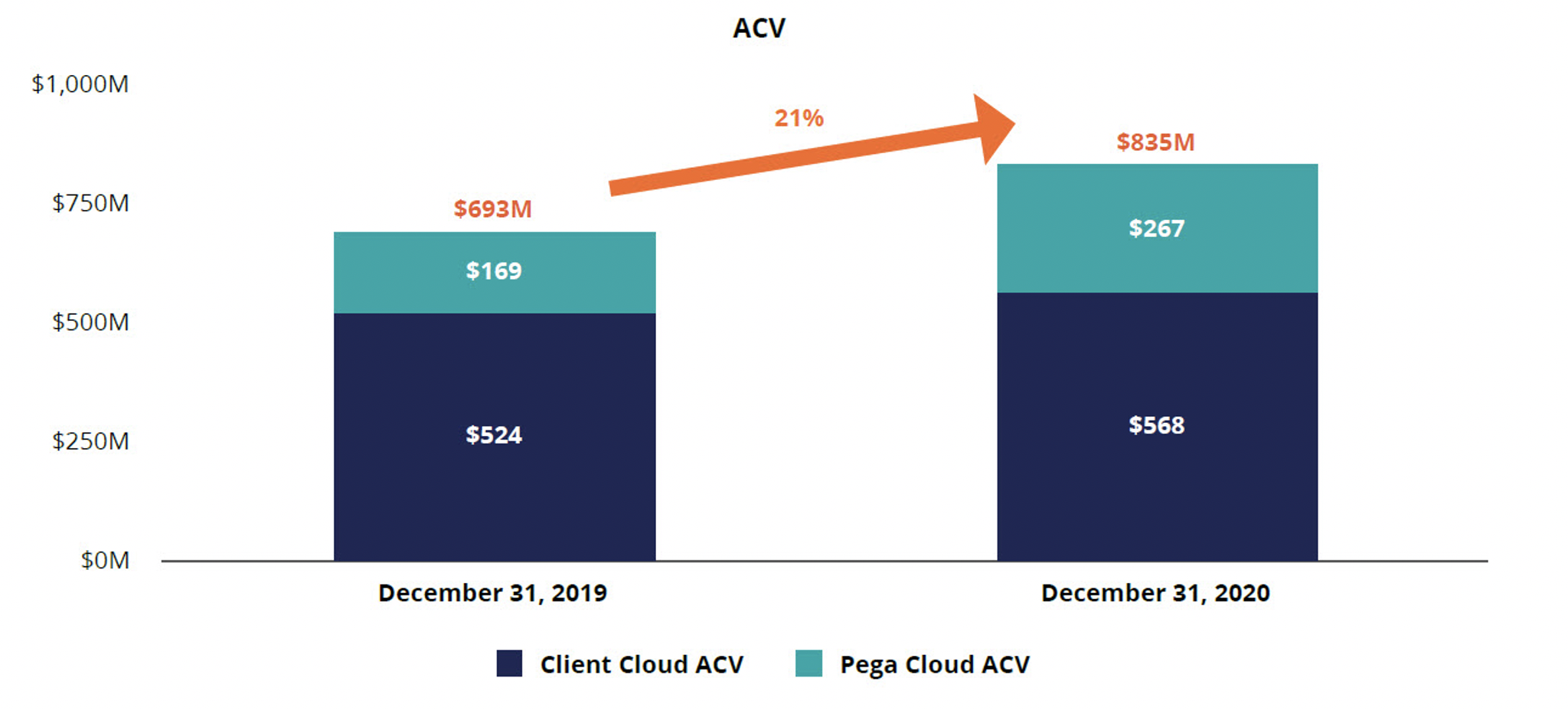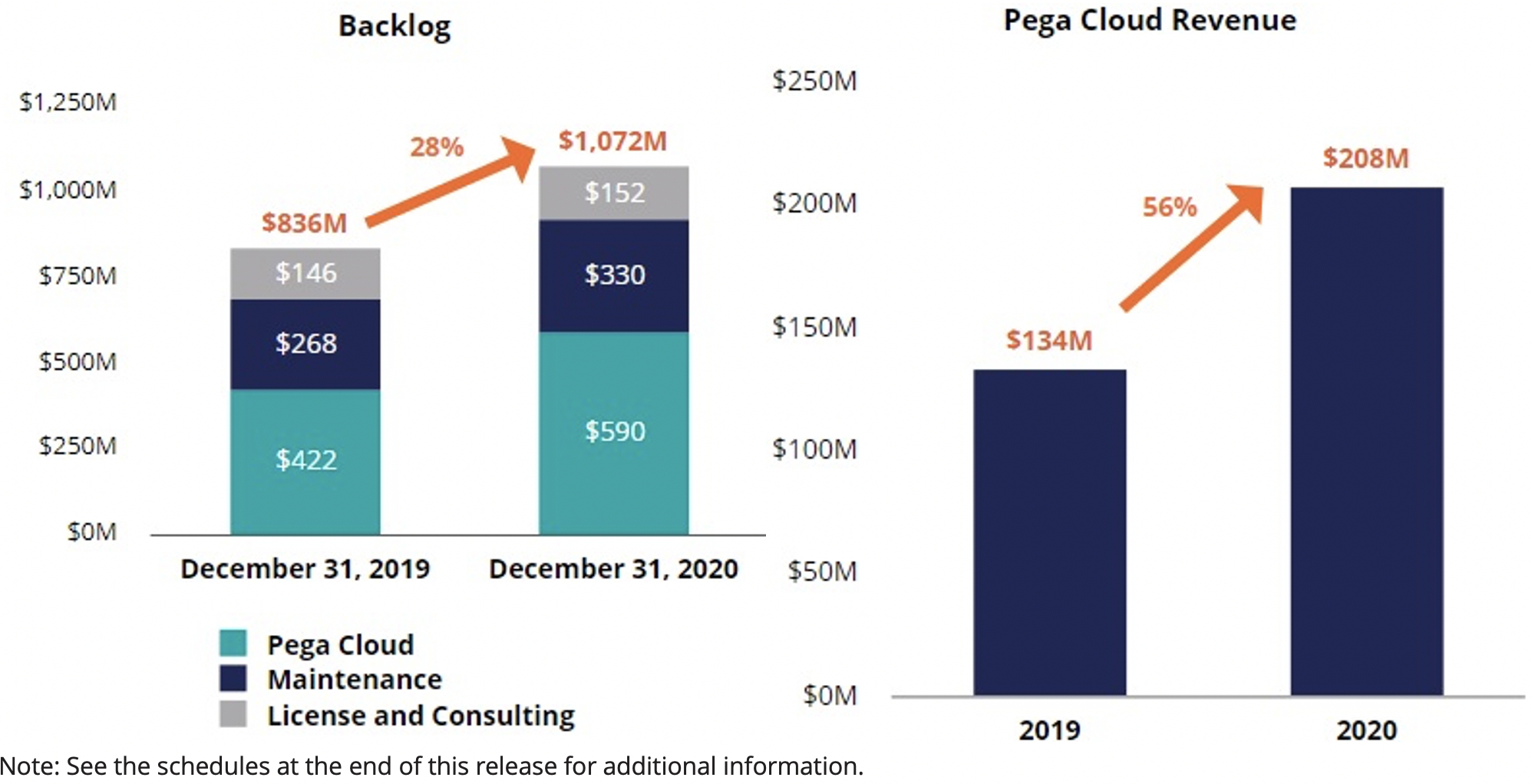 View full press release with financials
Quarterly conference call
We will conduct a conference call and audio-only webcast at 5:00 p.m. EST on February 17, 2021. 
Members of the public and investors may join the call and participate in the question and answer session by dialing 1-866-548-4713 (domestic), 1-323-794-2093 (international), or via webcast (http://public.viavid.com/index.php?id=143063) by logging onto www.pega.com at least five minutes before the event's broadcast and clicking on the webcast icon in the Investors section.
A replay of the call will also be available on www.pega.com by clicking the Earnings Calls link in the Investors section.
Discussion of Non-GAAP financial measures 
We believe that supplementary non-GAAP financial measures provide useful information to allow investors to understand our core operating results and future prospects, without the effect of often-one-time charges and other items outside our normal operations, consistent with how management measures and forecasts the Company's performance. The supplementary non-GAAP financial measures included are not meant to be considered superior to or a substitute for results of operations prepared in accordance with U.S. GAAP.
A reconciliation of our Non-GAAP and GAAP measures is at the end of this release.
Forward-looking statements
In this press release, certain statements may be "forward-looking statements" as defined in the Private Securities Litigation Reform Act of 1995.
Words such as expects, anticipates, intends, plans, believes, will, could, should, estimates, may, targets, strategies, projects, forecasts, guidance, likely, and usually, or variations of such words and other similar expressions identify forward-looking statements, which are based on current expectations and assumptions. 
These forward-looking statements deal with future events and are subject to various risks and uncertainties that are difficult to predict, including, but not limited to, statements about: 
our future financial performance and business plans;
the adequacy of our liquidity and capital resources;
the continued payment of quarterly dividends;
the timing of revenue recognition; 
management of our transition to a more subscription-based business model;
variation in demand for our products and services, including among clients in the public sector;
the impact of actual or threatened public health emergencies, such as the Coronavirus (COVID-19);
reliance on third-party service providers;
compliance with our debt obligations and debt covenants;
the potential impact of our convertible senior notes and related Capped Call Transactions;
reliance on key personnel;
the relocation of our corporate headquarters;
the continued uncertainties in the global economy;
foreign currency exchange rates;
the potential legal and financial liabilities and reputation damage due to cyber-attacks;
security breaches and security flaws;
our ability to protect our intellectual property rights and costs associated with defending such rights;
our client retention rate;
management of our growth.
These risks and others that may cause actual results to differ materially from those expressed in such forward-looking statements are described further in Part I of our Annual Report on Form 10-K for the year ended December 31, 2020, and other filings we make with the U.S. Securities and Exchange Commission ("SEC"). Except as required by applicable law, we do not undertake and expressly disclaim any obligation to publicly update or revise these forward-looking statements whether as the result of new information, future events, or otherwise.
The forward-looking statements contained in this press release represent our views as of February 17, 2021.
About Pegasystems
Pega delivers innovative software that crushes business complexity so our clients can make better decisions and get work done. We help the world's leading brands solve their biggest business challenges: maximizing customer lifetime value, streamlining customer service, and boosting operational efficiency. Pega technology is powered by real-time AI and intelligent automation, while our scalable architecture and low-code platform help enterprises adapt to rapid change and transform for tomorrow.
---