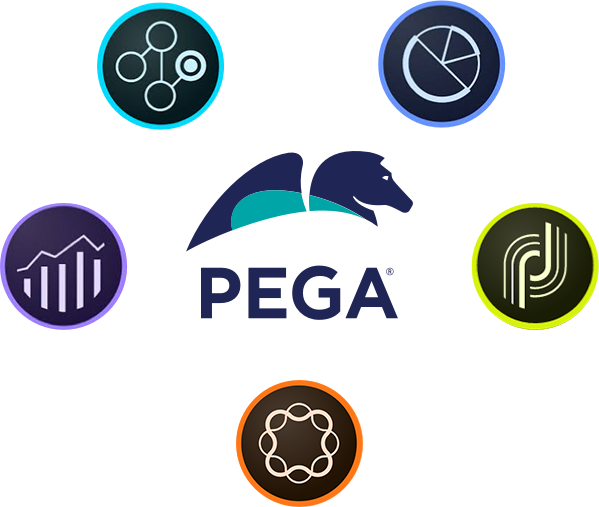 Pega supports Adobe Experience Manager, Adobe Analytics, Adobe Campaign, Adobe Target, and Adobe Audience Manager.
1-1 Intelligence + Simple Integration = Overwhelming Adulation
The marketing landscape has over 5000 solutions. They're all unique – but built for different stages of the customer lifecycle: Known vs Unknown. Prospects vs Customer. Loyalty vs Churn. But when Pega is integrated with Adobe, you can toss the rest of your "trash stack". You've got the whole relationship covered – from the first online ad, through the 10-year anniversary email.
The combination of powerful decisioning and analytics with marketing and digital advertising data can be a valuable tool – one that helps us increase satisfaction and drive revenue growth.
Adobe Experience Manager
Adobe Experience Manager helps marketers author treatments that are delivered across channels, like web pages or emails. It's designed to personalize for prospect audiences – unknown visitors without a rich purchase or interaction history.
Pega Marketing enhances Experience Manager with personalization for known customers delivered in milliseconds. The Pega AI evaluates all your potential actions in real-time while the interaction is taking place, then delivers a Next Best Action tailored to that specific individual and moment.
Even when interactions occur outside of digital channels – like in the call-center, retail store, or IVR – Pega's Next Best Action Advisor keeps that experience relevant, contextual, and connected.
Build for Change: Next Best Action | 2:35
Adobe Analytics
Adobe Analytics tracks click-stream activity by web users, with detailed reporting on how each segment interacts with content – like links, pages, videos, and other assets.
You want that data to inform customer interactions on your other channels, too, but that can require tons of individual data integrations, and that gets cost-prohibitive fast.
With Pega you'll leverage one integration with Adobe Analytics to make your clickstream data available on every channel, using our Event Strategy Manager to processes data-streams in real-time, and link them directly to your campaign strategy.
Build for Change: Event Strategy Manager | 2:58
Adobe Campaign
Adobe Campaign is a campaign management tool with both email and marketing automation capabilities. Marketers use it to build and execute their outbound campaigns.
Adobe Campaign was designed to market to segments of people but organizations can use the Pega Customer Decision Hub to integrate individual intelligence directly into their campaigns.
The Adaptive Decision Manager module can take feeds from Adobe Campaign and combine it with data from all your other channels – crunching the numbers in milliseconds, and returning a personalized Next Best Action recommendation for each person. The machine learning ensures those recommendations get smarter every time you touch a customer – anytime, anywhere.
Pega Adaptive Decision Manager | 1:52
Adobe Audience Manager
Adobe Audience Manager is a Data Management Platform (DMP) that compiles advertising audiences – mapping individuals to segments, and allowing publishers to target those segments with Paid Advertisements.
Pega's Paid Media Manager integrates directly with Adobe Audience, using AI to analyze individual customers (not segments) and assign them to personalized Next-Best-Actions within the DMP.
Customers can then be targeted 1-1 with the most relevant ads, purchased for exactly the right price.
Paid Media and Next Best Action | 3:08
Adobe Target
Adobe Target allows marketers to automate the setup and execution of A/B tests, across segments, with the goal of finding the "perfect" treatment for each group.
The Pega Customer Decision Hub can integrate with Adobe Target, to ensure the learnings from those tests become part of the interaction history – your "organizational memory" – and can be leveraged in decision-making across your enterprise.
Whether you're testing offers, pricing, style, color, image, or more, that data can be used to train the Decision Hub AI, and ensure it has a constant flow of new information to learn from.
Related Resources
Analyst Report
Pegasystems was cited as a leader and received the highest scores possible in Vision, Supporting Services, Solution Packaging and Delivery, and Commercial Model.
Study
Forrester Consulting examines the potential return on investment (ROI) enterprises may realize by deploying the Pega Marketing Application.
See how Pega can help your business
Talk to an expert and see how Pega can transform your customer experiences with next-generation software applications and solutions.