How Sprint is Revolutionizing the Customer Experience
Hear how a data-driven, next-best-action approach helped Sprint forge better customer relationships and increase customer retention.
"Pega's tool is another investment to make our customers happy."
Forrester Study: 438% ROI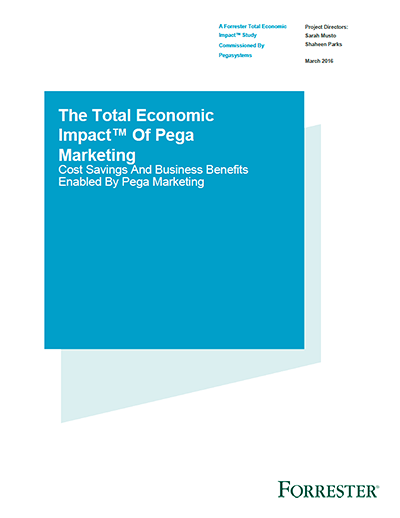 Pegasystems commissioned Forrester Consulting to conduct a Total Economic Impact™ (TEI) study to examine the potential return on investment (ROI) enterprises may realize by deploying the Pega Marketing Application.
The study shows three-year risk-adjusted results, including:
An overall Return On Investment (ROI) of 438%, with a Payback Period of just 4.7 Months
Incremental Retained Customer Revenue exceeding $297 Million for the 3-year period
More than $64 Million in incremental sales, driving a 797% Return on Marketing Investment (ROMI)
3 smart ways to proactively retain customers
Great retention starts early, so don't wait until you're on the verge of losing business to a competitor. Take the right steps now and resolve problems in real time.