The new era of customer engagement
Pega's Customer Engagement Platform allows CSPs to realize your customer-centric visions in months instead of years, achieving measurable results quickly, and enabling true agility along the way.
Exceed expectations with insight, automation, and agility
Customers today expect more. A lot more. Are you ready to deliver? Turn your customer experience into your competitive advantage with Pega's Customer Engagement Platform. You'll increase agility. Cut costs. And use AI, automation, and robotics to improve both agents' and customers' experience – every time, on every channel.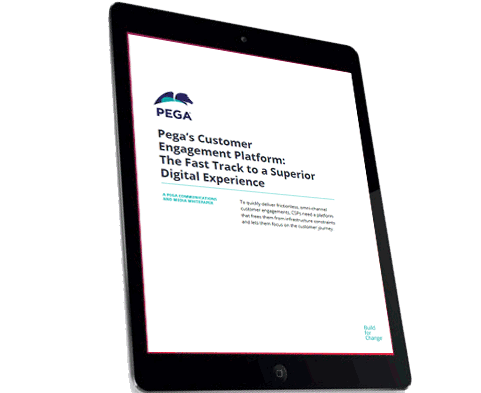 Get on the fast track to a superior digital experience
What would it take to realize your customer-centric vision? Greater agility? Speed? Automation? Insight? Whatever your vision, an omni-channel engagement platform lets you get there in months, not years.
Read our white paper and discover how Pega's Customer Engagement Platform works with your legacy OSS/BSS, empowering you to engage with customers in real time at the speed and scale you need.
"[With Pega we have] the ability to change and add things really, really quickly without the kind of overhead and time pressure of having to go and code new things into big BSS or OSS stacks."