The future of retail financial services
A global study of 500 senior banking & insurance executives by Cognizant, Marketforce & Pegasystems
A customer revolution is underway
Customer demands are overthrowing established business models and fueling disruption. Banks and insurance companies must change how they operate to emerge on the winning side or find the world has moved on without them. Our global survey shows organizations are working to stay current but remain adrift of many key innovations.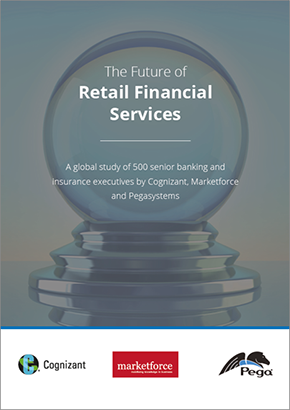 The survey's key findings show a sector alert to the challenges and opportunities of ongoing digital disruption but aware that legacy constraints and a risk averse culture mean they are trailing innovation pacesetters in fintech. Increased collaboration between incumbents and fintech will be essential to ensure the best ideas get the capital, scale and speed-to-market to continue to delight customers.
Do it right the first time
Hear from the C-suite
View this on-demand webinar today to learn from HSBC and LV= on how to achieve true customer-centricity in your operations.
Leaving a legacy?
According to our study, 24% of banks and insurers run the risk of falling behind competitors because legacy systems are preventing them from offering customers fully personalized services.
Read the announcement
What's next in customer engagement
Whether you want to meet real needs in real time, get smarter with AI, or use context to your advantage, meaningful engagement starts with the right technology.