Pega is a leader in RTIM
Pegasystems was cited as a leader and received the highest scores possible in Vision, Supporting Services, Solution Packaging and Delivery, and Commercial Model amongst 12 vendors that were evaluated against 32 criteria in The Forrester Wave™: Real-Time Interaction Management, Q2 2017. Pegasystems is the only leader that Forrester says "aligns RTIM across enterprise business functions."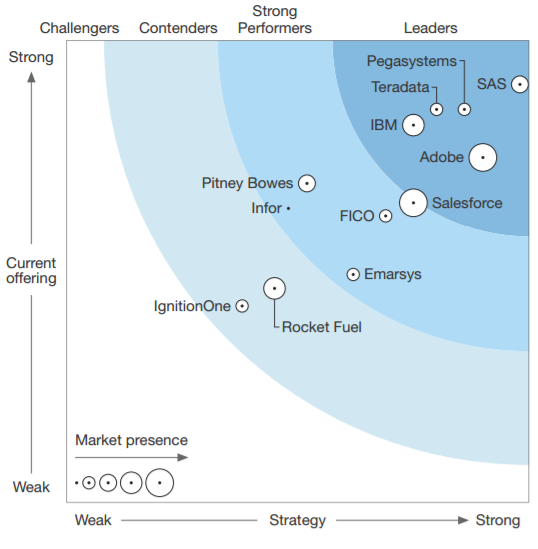 Highlights from the report:
"Pegasystems aligns RTIM across enterprise business functions. The Pega Customer Decision Hub builds on Pegasystems' traditional decision management capabilities for offline channels to enable personalized email, mobile, social media, web, and eCommerce interactions. It further extends its next-best-action analytics via integrations with adtech platforms and directly with advertising channels."
"Pega's value lies in consistent decision making across business roles, and we spoke with customer references who are using it to fuel cross-functional RTIM within marketing, sales, and service for tens to hundreds of millions of customer records."
The Forrester Wave is copyrighted by Forrester Research, Inc. Forrester and Forrester Wave are trademarks of Forrester Research, Inc. The Forrester Wave is a graphical representation of Forrester's call on a market and is plotted using a detailed spreadsheet with exposed scores, weightings, and comments. Forrester does not endorse any vendor, product, or service depicted in the Forrester Wave. Information is based on best available resources. Opinions reflect judgment at the time and are subject to change.
Make decisions better, faster, and smarter
Data can give you great insights, but it won't get the job done alone. Use it to power a decision-making engine that lets you take the next best action in every customer interaction.