Robotics and AI are rapidly changing the world of work
Workplaces globally are accelerating in flexibility, agility and responsiveness as the deployment of Robotics and Artificial Intelligence augments human skills and abilities – a concept and practice that is becoming increasingly mainstream.
The Future of Work
69% of senior executives surveyed expect the workforce to eventually encapsulate both human employees and intelligent machines. How can businesses prepare for these transformational changes?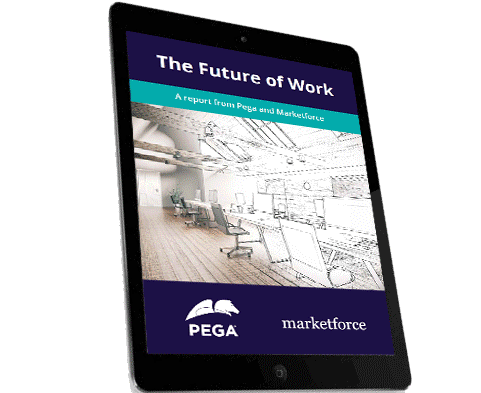 New ways of working
Be prepared for the 'hybrid workplace', which will fundamentally change how work gets done. Robots running processes? AI-guidance for every employee? The gig economy eroding the need for permanent staff? You may think that this is a long way off but a lot is already underway.
Download your copy now to better understand how senior leadership at organizations around the world are perceiving and adapting to transformational impacts to the workforce and workplace from these emerging technologies.
How optimized work gets done
Get up to speed on this in-demand technology and start reaping the valuable benefits of enterprise automation today.
Gartner's complimentary guide will position your RPA projects for success with a focus on improving business outcomes.
Learn how UnitedHealthcare saved $150M and increased customer satisfaction by using Pega RPA software to power process efficiencies.
Get a glimpse of automation done right
Robotic process automation is a start, but it's not going to transform your business by itself. For real results, combine robotics with a powerful end-to-end approach.