A Pega/Marketforce Report | 24 Pages | 20 Mins Read
The Future of Work
Robots running processes. AI coaching employees. Freelancers replacing permanent staff. Brace yourself – big changes are underway in the world of work.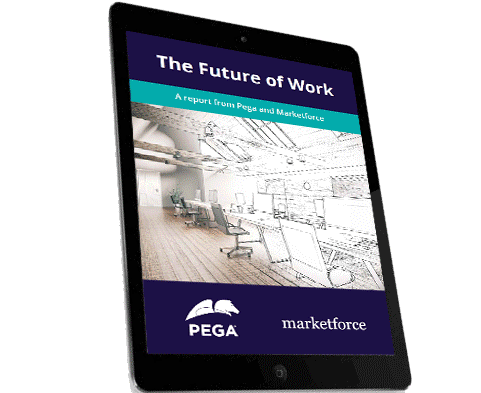 Change is coming. Are you ready?
Robotics and AI are revolutionizing work as we know it. Within 10 to 20 years, leaders expect our workforce to be made up of both human employees and intelligent machines. How can businesses prepare for such transformational change? Download our report, created in partnership with Marketforce, to discover projections and advice for:
Managing in the age of analytics and AI
Ensuring humans and machines work together in harmony
Equipping employees for a customer-focused future
Related resources
Get up to speed on this in-demand technology and start reaping the valuable benefits of enterprise automation today.
Gartner's complimentary guide will position your RPA projects for success with a focus on improving business outcomes.
Learn how insurance leader Unum automated more than half of most customer journey processes.
Pegasystems is the leader in software for digital transformation. Find out more about our 35-year history of helping the world's leading organizations achieve breakthrough business results.
Learn more