Customers keep control over their operations while taking advantage of the power of the cloud. This control includes installing, upgrading and maintaining both the IT infrastructure and Pega technology within their own cloud environment.
Certified cloud deployment options:

Amazon Web Services (AWS) is a secure cloud services platform, offering compute power, database storage, content delivery and other functionality to help businesses scale and grow.

Microsoft Azure is an open, flexible, enterprise-grade cloud computing platform. Its cloud services enable users to build, deploy, and manage applications anywhere, using the tools, applications, and frameworks of their choice.
Google Cloud delivers secure, open, intelligent, and transformative tools to help enterprises modernize for today's digital world.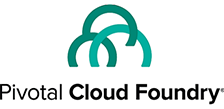 Pivotal Cloud Foundry is an open source multi cloud computing platform that provides a platform as a service (PaaS) that runs on top of a range of cloud infrastructures.

Private Cloud is an IT infrastructure that is maintained within a customer's data center. This offers the most customization and the most control.
Related Resources
Data Sheet
With many enterprises adopting a multi-cloud strategy, the flexibility to manage applications on the infrastructure of your choice is paramount.
Knowledgebase
Learn about the different models Pega offers to manage applications on a cloud platform and determine which model would be right for your organization.
eBook
When it comes to accelerating the value of cloud computing for the modern enterprise, the market is articulating a need for flexibility that goes beyond cost.