For the second consecutive year, Chartis Research names Pega a category leader in Know Your Customer (KYC) systems.
In its latest RiskTech Quadrant® report, leading risk technology analyst firm Chartis Research rated Pega a category leader based on completeness of offering and market potential across 14 separate criteria. In particular, Chartis ranked Pega as providing advanced capabilities in KYC risk scores, customer onboarding, Customer Lifecycle Management (CLM), and its workflow engine. As shown in the chart below, Pega scored highest among competing solutions.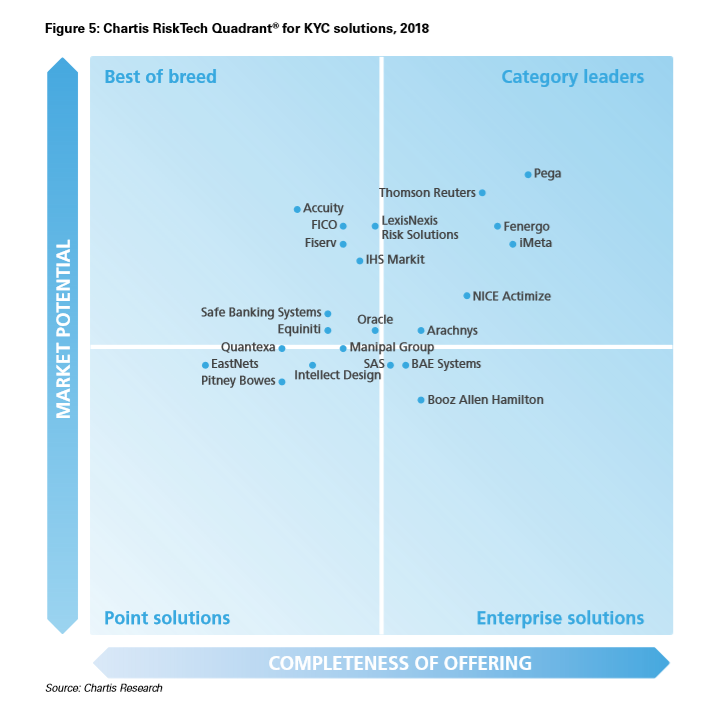 Pega KYC™ and Pega CLM™ provide large, complex financial institutions with predefined industry best practices, global coverage of KYC regulatory rules, and out-of-the-box functionality for onboarding and KYC. Pega is the only vendor that provides cross line-of-business (institutional, wealth to consumer) and globally scalable KYC and CLM applications with inherent digital process automation, an automated KYC rules engine with 29,000 rules, case management, AI, robotics, and zero code configuration. These industry-leading applications can be deployed at the world's largest institutions in as little as three months to speed time to revenue and ensure compliance.
Pega KYC and Pega CLM empower financial institutions to:
Seamlessly and easily orchestrate global front-office to back-office processes for complex multi-product and multi-jurisdictional customer onboarding and customer maintenance.
Ensure compliance with regulatory requirements, including AML/CTF, FATCA, CRS, Dodd-Frank, EMIR and MiFID II, through 7,000+ prebuilt and easily modified KYC rules maintained by a global team of lawyers, ex-regulators, and policy makers.
Engage with customers via a true omni-channel experience, and empower staff to always put the customer at the center of every transaction.
That's why Pega KYC and Pega CLM are trusted by more than 40 leading banks  – including the world's largest corporate and investment financial institutions – and are supported by a global team of regulatory and business subject matter experts, former big four consultants, attorneys, experienced implementation experts, leading product developers, third party data providers, and consulting partners.
Learn more at PegaOnboarding.com, and: