Passes & pricing
Snag individual or bundled team passes for our 2020 event in Boston. The earlier you register, the more you'll save.
Explore your options



Full conference pass
Get ready for three days of unlimited access to everything PegaWorld iNspire has to offer, from keynotes and breakout sessions to entertainment and meals.
Jan. 1 - Apr. 1, 2020
$1095
Apr. 2 - May 30, 2020
$1395

Student & Faculty Price: $200*
*You'll be required to show documentation of your full-time student or faculty status onsite.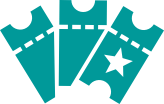 Team passes*
Now through December 31, 2019, buy bundled passes and save big. Bring more colleagues, absorb more knowledge, and connect with more experts. Access all the benefits of our full conference pass, multiplied across your team.
5 team members
$595/pass
$2,975 for your team of 5
(2,975 Pega Points)
10 team members
$500/pass
$5,000 for your team of 10
(5,000 Pega Points)
15+ team members
$500/pass
Team passes can be purchased in packs of 5 so you can bring the whole team.
How to redeem
After you purchase your team pass bundle, we'll provide you with a unique discount code. Share that code with team members to use when they register.
Rules & regulations*
Team passes must be purchased in increments of 5 and cannot be combined with any other discount. Team passes are non-refundable. The Team pass program will not be available for purchase after December 31, 2019. All Team passes must be redeemed by May 1, 2020.
Register with your Pega Points
Are you a member of the Pega Customer Reference Program? Good news! You can redeem your Pega Points for individual, team, or training passes. To apply your points toward passes or to get your current points balance, contact: references@pega.com.
Full conference pass

750 Pega Points

5-pack team passes

2,975 Pega Points

10-pack team passes

5,000 Pega Points

A training pass can be redeemed for 200 Pega Points.
Perks with every PegaWorld iNspire pass
Inspiring keynotes
Hear from thought leaders from the world's biggest brands
Insightful breakout sessions
Dive deep into topics ranging from customer engagement to intelligent automation and beyond
Interactive experiences
Get hands-on with Pega technology and interactive exhibits.
Insider networking
Meet top business and IT leaders from around the globe
Incredible entertainment
Concerts, parties, meals, and a few special surprises