5 building blocks of digital transformation
The task: Transform your enterprise into a digital-first business. The timing: Preferably yesterday. Get started with five digital building blocks – based on MIT research into success stories from leading companies.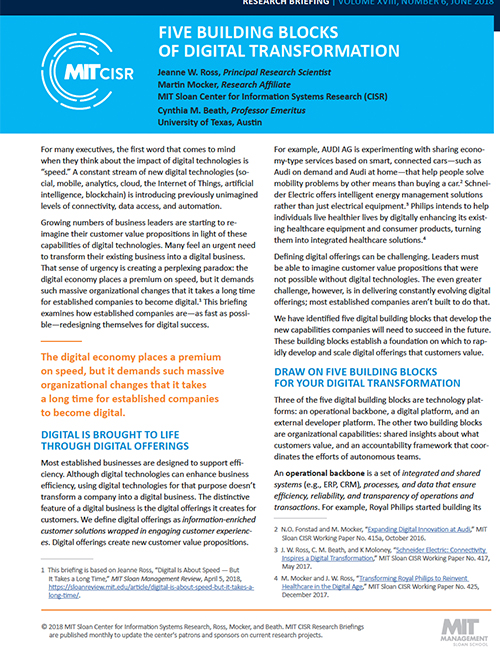 Results in 5, 4, 3, 2, 1
Redefining for a new era can feel impossible. But there's a way forward. These five strategies have been successfully adopted by global leaders like Audi, Philips, and Spotify, and your company can replicate them, too. Download Five Building Blocks of Digital Transformation from MIT Sloan Center for Information Systems Research (MIT CISR) to learn how to:
Create a real, actionable digital transformation blueprint
Develop an operational backbone to support change
Turn customer insights into offerings people will pay for
Facilitate rapid innovation with the right digital platform
Build partner ecosystems that position you for future success
Copyright © Massachusetts Institute of Technology, 2018. This work was created by MIT's Sloan Center for Systems Research (MIT CISR).